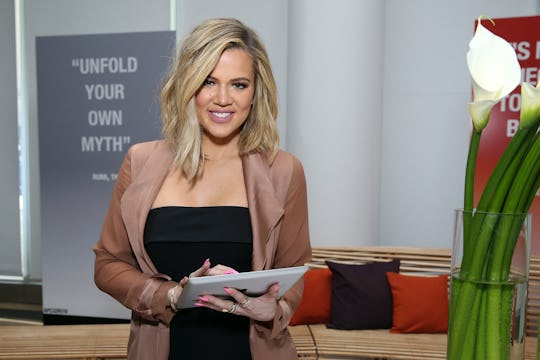 Cindy Ord/Getty Images Entertainment/Getty Images
How Far Along Is Khloe Kardashian Now? The Reality Star *Finally* Confirmed Her Pregnancy
Kardashian fans rejoice! After months of speculation, Khloe Kardashian finally revealed that she's pregnant with boyfriend Tristan Thompson's child, according to Kardashian's Instagram. Since the Keeping Up With the Kardashians' star has remained silent until now, fans are now left wondering: How far along is Khloe Kardashian?
Kardashian confirmed rumors that she and Thompson, a center for the Cleveland Cavaliers, are welcoming their first child, according to her Instagram. And while the Good American co-founder didn't specify a due date in the post itself, it's safe to assume that Kardashian is due around January and/or February of 2018. That would put her, roughly, in her third trimester. I have to say, Kardashian looks fabulous for being this late in her pregnancy; I know I was a hot mess around that time, which is totally OK too.
Kardashian said in her Instagram post, finally announcing her pregnancy:
US Weekly first broke the news of Kardashian's pregnancy back in September, based on information provided by multiple sources close to the reality TV family. Those same sources told US Weekly that the 33-year-old designer and 27-year-old NBA champ are expecting a baby boy. Kardashian did not confirm rumors of their child's sex. Either way, KUWTK fans couldn't be happier knowing there will be another little Kardashian running around.
It's not surprising, though, that Kardashian would take so long to confirm the pregnancy rumors. The Kardashian-Jenner clan is notoriously tight-lipped about family matters, and are in strong control of their media presence. Of course, they didn't stop fans from trying to point out pregnancy clues. Everything from Kardashian's poses to the clothes she wore were used as circumstantial evidence that she is pregnant.
Now that the truth is out, though, it's time to celebrate Kardashian and Thompson's growing family.
If you've followed the younger Kardashian sister's life, then you know this pregnancy is a major deal for the reality TV star. Kardashian has opened up publicly in the past about her struggles with trying to conceive, so becoming pregnant with Thompson's second child is a much-wanted dream realized. (The Cleveland Cavaliers center already has a 9-month-old son named Prince Oliver with his ex-girlfriend, model Jordan Craig.)
The pair's relationship had a bit of a rough start, though. According to PEOPLE, Kardashian and Thompson began dating around September 2016 after meeting on a blind date set up by a friend. At the time, Craig was about four months pregnant with his child. The timing left many people to speculate that the NBA player left a pregnant Craig for the youngest Kardashian sister, BET reported. But Thompson and Craig now co-parent their son Prince together.
Whether or not Kardashian and Thompson will only have one kid together remains to be seen. But there's a possibility they may have a little reality TV clan of their own. In the Season 13 finale of Keeping Up With The Kardashians in June, the designer and business woman joked that her basketball star boyfriend was ready for a large family. She said:
He wants to have, like, five or six kids with me, and that's lovely. We could start at one and then grow from there. But now, knowing I'm not on birth control, it's really scary. It's like a really big step.
She also told You magazine in August that Thompson is "very protective" of her and her entire family. The Good American designer said,
I love that everything we do is as a union. When he speaks, it's 'us' and 'we,' and that's important because it shows that you're sharing life.
It's beautiful to see such a strong partnership between two people. Their baby, then, will no double feel all the love in the entire world.
Check out Romper's new video series, Romper's Doula Diaries:
Watch full episodes of Romper's Doula Diaries on Facebook Watch.