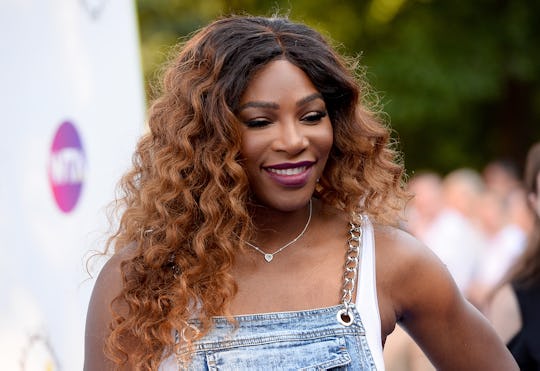 Eamonn M. McCormack/Getty Images Entertainment/Getty Images
How Moms Helped Serena Williams Realize It's OK To Miss Some Big Moments In Your Baby's Life
The pressure of being a new, working mom cannot be understated and even celebrities have a difficult time navigating it. But, thanks to fellow moms, Serena Williams realized it's normal to miss some big moments in your baby's life. For all the working moms out there, that's something important to hear.
Often, moms feel pressured to be around for every second of their baby's life. If you miss one thing, like the first time they sit up or roll over, suddenly you're ridden with mom guilt. That type of pressure not only brings strain to the mother-child relationship, but it's simply an unobtainable standard for many moms.
Williams gave birth to her first daughter, Alexis Olympia Ohanian, on Sept. 1, 2017. This is her first child with her husband, Alexis Ohanian. Ever since giving birth, Williams has been really open about pregnancy and her experience with motherhood so far. For instance, in January, Williams opened up to Vogue on her pregnancy complications and it was incredibly important. Williams spoke not only about birthing complications that left her primarily bedridden, but she also opened up about balancing motherhood while making a comeback.
It takes a village to raise a child and, in a new interview with TODAY, Williams spoke about the advice she's received from her village.
In her interview with Stephanie Ruth on TODAY, Williams opened up about navigating parenthood and the supportive network she's found on social media, saying, "When I missed Olympia's walking, I posted about it and so many parents wrote in and said, 'Don't worry about it, I missed it too." According to the same interview with TODAY, she went on to add:
I didn't realize that it's almost more normal to miss it than it is to make it. So I really kind of rely on everyone's help out there. It's been so, so amazing.
Back in July, Williams tweeted, "[Olympia] took her first steps...I was training and missed it. I cried."
Obviously, it's totally fair for a mom to want to be around for her baby's firsts and to feel sad over missing it. But other moms were quick to make sure Williams didn't weigh down on herself.
"Ah Serena. I'm with you there. I'm in Russia at a World Cup. I watched mine take her first steps on a video... she'll be proud of you when she [grows] up (I have to keep telling myself)," one person tweeted.
"I missed a bunch of firsts while I was at work. I hear ya, mama. It's not easy. But our girls see us out there grinding + living our dreams and that's got to mean something. Good luck in London - my daughter and I are both rooting for you!" another said.
One person added, "It doesn't count until mommy sees it. Nothing counts until mommy sees it."
In a climate where some celebrities avoid posting images of their babies, like Kylie Jenner removing photos of Stormi, it's heartwarming to see the network Williams has. All moms should be able to turn to people for support, including their online communities, where moms can sometimes share things they can't voice in person.
Williams struggled with postpartum depression after giving birth to Olympia, telling Harper's Bazaar, "I remember one day, I couldn't find Olympia's bottle and I got so upset I started crying … because I wanted to be perfect for her."
No parent is perfect, and striving to be can cause a lot of stress. But, it's clear that Williams is taking the words of fellow moms to heart and learning how to navigate this entirely new role. Her fans and village of moms are definitely here for her!