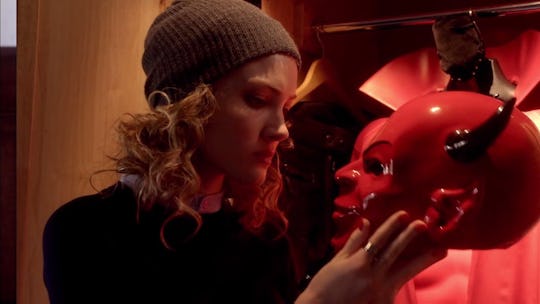 FOX
How Grace Could Return To 'Scream Queens' Season 2 & Surprise Us All
With Episode 5 of Scream Queens fast approaching and half the season left to figure out pretty much everything that's going on, fans have been asking plenty of questions. And, understandably, many of them have been about Grace and how Grace could return to Scream Queens Season 2. Because as a main player from Season 1, her absence has been felt throughout this season. Skyler Samuels (who played Grace) took a break from acting to finish her degree at Stanford, but it's hard to believe that her schedule wouldn't allow for her to appear in at least one or two episodes of Season 2, if only to give fans what they have been desperately craving, which is the return of Grace on Scream Queens.
But how could Grace return to Scream Queens? The obvious solution to make her grand re-entrance into the world of masked serial killers and Chanels is to make her the Green Meanie and end Season 2 with a real shocker of a reveal. Then again, in some ways, that might actually be too obvious. Still, fans refuse to believe that Grace is gone from Scream Queens forever. And while it's entirely possible for her to return in later seasons, fans are still holding out hope that Grace will be back before Season 2 is over.
If Grace returns as the Green Meanie, it could be explained that after the events of the first season of Scream Queens, she went a little crazy a la Hester (who is technically her half-sister by the way), and decided to return to kill off everyone around the Chanels, leaving them for last. If you recall, the Green Meanie did spare Zayday at one point, who is a known BFF to Grace.
But if she isn't the Green Meanie, Grace could return to Scream Queens to save the day, in a small way. Let's say, for example, that the season finale finds Zayday and a couple of other survivors in a showdown with the Green Meanie. Grace could swoop in as a surprise guest star and help to save them all from harm.
To really shake things up, though, what if Grace were to return to Scream Queens as a patient? It would finally give fans some closure on her character while also open things up to have her back in a future season without her return seeming contrived. They could even make her reveal as a patient super dramatic, like how their first patient, "werewolf girl," and Chanel Number Five's boyfriend, had ailments that made it impossible to recognize them before they were cured.
There hasn't been any mention of Grace so far this season, but that could just be so that when she does return to Scream Queens, her entrance will be that much more dramatic and unexpected. Here's hoping!