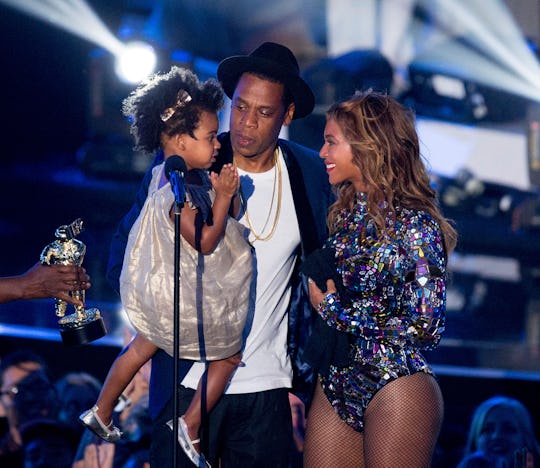 Mark Davis/Getty Images Entertainment/Getty Images
How Long Did Beyonce Keep Blue Ivy's Birth Secret?
Ladies and gentlemen, we have officially entered the "Beyoncé Could Give Birth Any Day Now" wait-and-see game. Between rumors that the goddess herself is planning to give birth to her twins at Cedars-Sinai Hospital in Los Angeles, California, to the ever-changing theories of the twins' genders, the Beyhive is more than ready to welcome the two newest members of the Knowles-Carter family. But once the twins arrive, will fans have to wait long? Hopefully not, if Blue Ivy's birth is any indication. How long did Beyoncé wait to announce Blue Ivy's birth? Not that long at all, actually.
Blue Ivy Carter was born on Jan. 7, 2012 at Lenox Hill Hospital in New York City — in a posh private birthing suite that goes for as much as $2,400. The news of Blue Ivy's birth first broke on E! News in the wee hours of Sunday morning, but wasn't officially confirmed by the couple at the time. It would be another two agonizingly long days before Beyoncé and Jay Z issued an official statement on Blue Ivy's birth, again, to E! News. Their statement read in part:
We are happy to announce the arrival of our beautiful daughter, Blue Ivy Carter, born on Saturday, January 7, 2012. Her birth was emotional and extremely peaceful, we are in heaven... We are thankful to everyone for all your prayers, well wishes, love and support. Beyoncé & Jay-Z
Now, when it comes to Blue Ivy's first photos, fans had to wait just a bit longer. Beyoncé and Jay Z posted their first photos of Blue Ivy to a now-defunct Tumblr just a couple of days after their daughter had turned 1 month old. So, if judging by Blue Ivy's entrée into the world, there might be a bit of a delay before news of Beyoncé's twins' birth is made official, and an even longer wait to see those first gorgeous photos. Also, can we talk about how I genuinely cannot contain my excitement to see Blue Ivy's first photos with her little siblings? So excited.
But of course, Blue Ivy was born five years ago — and news travels at a much faster clip on social media than it did back then. Even though Beyoncé kept her maternity room pretty much on lockdown — with much controversy as to the exclusion of other parents trying to visit their newborns — the ability to quickly snap a photo and get it online is basically instantaneous at this point. Much like Blue Ivy's birth, the world could get the news of Beyoncé giving birth from outside sources a couple of days before the couple will officially confirm it.
Maybe that's why Beyoncé may have to sneak into Cedars-Sinai Hospital once the big day finally arrives — and even then, Hollywood entertainment news hounds can still grab the scoop before Beyoncé can even log into her Instagram. Or, just maybe, if fans are super duper lucky, the Queen Bey will scoop the scoop herself and make the news official before anyone else. Fans will just have to wait and see.