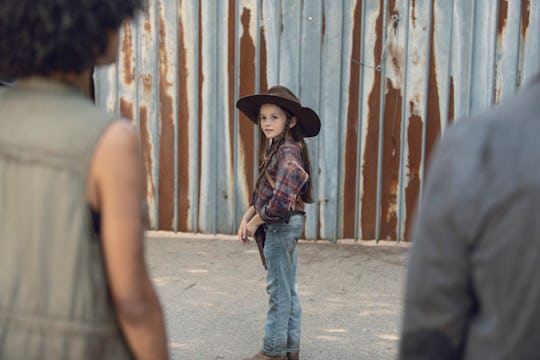 Gene Page/AMC
Rick's Exit On 'The Walking Dead' Left Behind A New Timeline
The Walking Dead Season 9 began with a time jump and right after Rick was flown away in a helicopter to parts unknown, there was yet another jump in the timeline. Only this time it appeared to be years, as a much older Judith was shown trying to lead survivors away from a horde of walkers. So how long has it been since Rick left on The Walking Dead? The last time viewers saw her before being introduced to the gun-slinging almost pre-teen of the future, she was around four years old. The Walking Dead showrunner Angela Kang confirmed to Entertainment Weekly that there was a six year time jump, making Judith 10 years old and every bit as tough as her late older brother, Carl.
According to TVGuide.com, the introduction of an older Judith is completely new territory for the show since she died as an infant in the comics. So with the big time jump comes a ton of potentially new material, at least from where this older Judith stands. The new Walking Dead timeline also means figuring out where things are for the remaining characters and how things have gone on since Rick's disappearance, which everyone else no doubt believes to be his death. The good news is that viewers won't have to watch too many mourning scenes, which there have been enough of in recent seasons.
Maggie is also nowhere to be found in the preview for Sunday's episode "Who Are You Now?," which means that Lauren Cohan's exit from The Walking Dead came the same time as Andrew Lincoln's last episode.
"That's the last of her for this season," Kang told The Hollywood Reporter of Maggie's final confrontation with Negan. "I would hope it's not the last you'll see of her for the show, but she is not in any immediately forthcoming episodes." This also means no older version of Baby Hershel running around anytime soon, but the focus seems to be on the people Rick left behind and a batch of newcomers.
Despite the biggest time jump so far and the general belief that Rick was killed in the bridge explosion that he ignited in order to kill dozens of walkers, this isn't the last viewers have seen of him. It's unclear if he'll be making his way back to Alexandria and the family he left behind when he was rescued at the end of the episode "What Comes After," but Lincoln will star in a series of AMC Studios original films featuring Rick after that epic helicopter rescue.
"It's not the beginning of the end, it's the end of the beginning," he said on Talking Dead after the much-anticipated episode. "I like the idea that we get to tell a bigger story, maybe with a sort of wider vista. And I've always been interested in what's going on out there, you know, whether or not there is contact with the wider world… Maybe it's the start of a bigger story."
I can't imagine a version of Rick where he isn't urgently trying to find his family and get back to where he started a thriving society, but these movies might shed some more light on the in between of then and now and what happened between the time Rick left The Walking Dead and the world as we now know it, six years later.
This jump in The Walking Dead timeline also makes the show more new-viewer friendly than ever. In the past, some seasons have left the door open for new fans to jump in without much confusion. But with the several years-long time jump, it might be easier for new or casual watchers to get back into the thick of it. And there are going to be new storylines, judging by the preview. Like Carol with long white hair and Ezekiel as her apparent lover and an older and much softer Negan, for starters. It's like a whole new world and there's still plenty of Season 9 left to explore it.