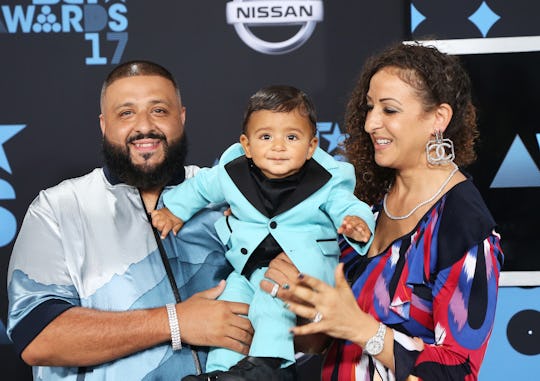 Maury Phillips/Getty Images Entertainment/Getty Images
Nicole Tuck & DJ Khaled Have Been Together For A While
Although DJ Khaled seems to be everywhere these days, his fiancée keeps a fairly low profile. But Nicole Tuck and DJ Khaled have been together for years. They've been dating for so long that it's hard to turn up a hard date for when they actually met, but it was definitely long before he ever really rose to fame.
Their friends and family say that the couple had been together for years and years prior to announcing their engagement in 2016 — even way back in 2013 when Khaled jokingly proposed to Nicki Minaj before the release to his song, "I Wanna Be With You." Although that must have been annoying for Tuck, the couple was tight enough to get through the publicity stunt.
They've all always been supportive of each other, too. Tuck used to have a clothing line, which Khaled promoted via social media. Tuck went to Marymount Manhattan College and then to Fordham University for her masters degree. She, like Khaled, are both of Palestinian descent. Although her clothing line, ABU Apparel is no longer in business, Tuck mainly occupies herself by unofficially repping Khaled and acting as his business manager.
Oh, and taking care of their new baby boy, Asahd, who was born in October 2016. Khaled was super excited for the arrival of his son, even Snapchatting the entire labor and delivery. For Tuck, it must really be love, because not a lot of women would have put up with all of that.
Apparently, she didn't really have too much of a choice. When he announced that he was going to Snapchat the whole thing, Khaled told Jimmy Kimmel before his son's birth:
The key is that I'm the king and every queen should support the king. I'm going to talk to the doctor and if the doctor says everything is gonna run smooth, meaning that we wanna make sure that the queen is right and my son is right. If it's running smooth where I can just do my thing, I'mma Snapchat the whole thing.
Thankfully, everyone seems to be doing just fine. In fact, Khaled and Tuck might even be planning expanding their party of three. He told People, "I've always wanted kids. This is my first kid and I'm excited and I want more. I've always wanted to be a family man. I'm in a great family and I want to have my own family at the same time."
In fact, Khaled's love for his son has actually turned into a meme, with people joking that Khaled is hovering over Asahd, who really just wants some space. The 5-month old obviously adores the attention in real life, but the memes are pretty hysterical — not only that, but they prove that he's got two loving parents who are obviously enamored with one another and support one another. Who could ask for more?