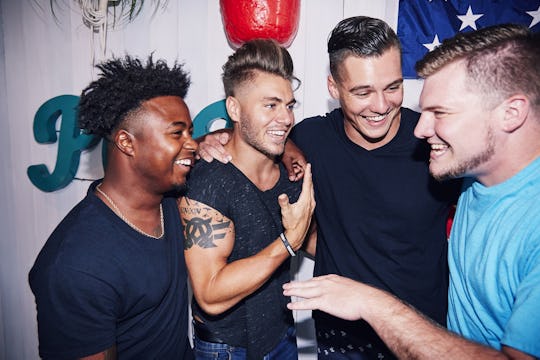 MTV
The 'Floribama Shore' Season 2 Fall Premiere Will Be Longer Than Usual
Since Floribama Shore's premiere in 2017, it's hopped around on MTV to different days and showtimes. This was likely in an effort to see what fit for the reality TV show and now that Season 2 is back, MTV has given Floribama Shore the coveted Thursday night 9 p.m. EST spot. This auspicious occasion is surely worthy of some fanfare, so how long is the Floribama Shore Season 2 fall premiere?
According to TV Guide, it will be two hours long. Jersey Shore and Jersey Shore Family Vacation have both done well in a Thursday time slot over the years, so this could be the start of something big for Floribama Shore. And what better way to kick off the beginning of the second part of Season 2 than to give Floribama Shore a two-hour premiere? I wouldn't get used to it since MTV isn't known to extend episodes of their programming unless it's a special case, but I think it's necessary that the Season 2 fall premiere be longer than the usual hour.
When the season left off in October, Candace was dealing with a potentially toxic relationship, Gus and Aimee had an explosive fight in New Orleans, and fans were left still wondering if Nilsa and Gus will ever get together for good. It's definitely going to take a supersized episode of Floribama Shore to cover whatever comes next.
Floribama Shore has had mixed reviews from fans. Some have adopted it as their new Jersey Shore, while others still aren't sure if they relate to any of the cast members. Whatever your stance may be, you have to admit that it's provided some top reality TV entertainment in the short time it's been on. My guess is that the new time and day is meant to help bring in more viewers, especially now that Jersey Shore Family Vacation Season 2 appears to be nearing its end.
It also makes sense that Floribama Shore be placed in the time slot directly before the Jersey Shore reboot, so hopefully this means Floribama Shore has a future on the network.
Hopefully this next batch of episodes has more of the spunk and drama fans have flocked to the show for. At the very least, Candace teased to TooFab that there could be more ex-boyfriend drama ahead. If it wasn't enough that she'd had plenty of her own drama with boyfriend Gator Jay during the first part of the season, Candace told TooFab that Logan, Kortni's ex, will be back.
"I promise you, Logan is never gone," she revealed. "He literally come back like the electric bill every month, he is never gone. That poor boy got problems... everybody needs to pray for him because he got issues."
She added that fans can also expect to see where things stand between her and Codi. You might remember (I mean, how could anyone forget?) that Codi made his romantic feelings for Candace clear before the season went on a break. It didn't seem like Candace would be reciprocating those feelings anytime soon, but there's still time for her to have a change of heart for her roommate.
It definitely sounds like a lot of juicy content is going to be stuffed into the last handful of episodes this season. It's only right that there's a two hour Season 2 return to kick it all off.
This first-time mom wants to have a home birth, but is she ready? Watch how a doula supports a military mom who's determined to have a home birth in Episode One of Romper's Doula Diaries, Season Two, below. Visit Bustle Digital Group's YouTube page for the next three episodes, launching every Monday starting November 26.