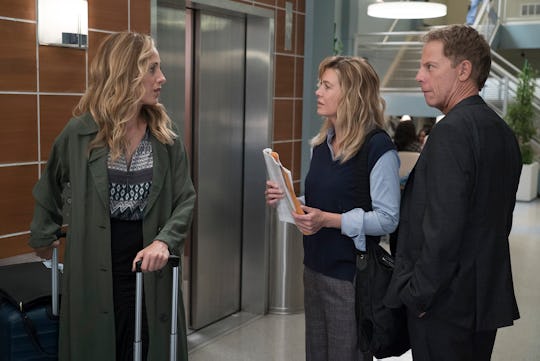 ABC/Eric McCandless
The 'Grey's Anatomy' Season 15 Premiere Is Going To Be Supersized
Premiere season is upon us, which can only mean one thing for Shonda Rhimes fans — TGIT is here, including Grey's Anatomy. Going into Season 15, I'm expecting big things. So, how long is the Grey's Anatomy season premiere? Get ready for a double dose of Seattle Grace Memorial Hospital, because on September 27 at 8 p.m. ET the season premiere is going to be two hours long.
The official tagline for Season 15 is "15 seasons of feels," so I feel like this season is going to be more emotional than ever — if that is even possible. The Grey's Anatomy Season 15 trailer shows new doctors, potential new love interests, and plenty more drama for Owen and Amelia, who might be back together despite Teddy showing up at the end of last season — pregnant with his baby. It looks like a big mess and I love it.
Unfortunately, the trailer doesn't give much else away. There is a shot of Meredith in bed with DeLuca, but I feel like that could just be a dream sequence and nothing more. The promo still makes it seem like fans should gear up for some epic moments after "15 seasons of feels," so I'd say expectations are high.
PopSugar recently spoke with Camilla Luddington, who plays Jo, and she divulged some juicy details about the season ahead. Now that Jo and Alex are married and Jo's abusive ex-husband is behind her, fans can expect things to slow down a bit for the couple. In a good way. "There's a whole new level to their relationship," she revealed. "There's a lot of mutual respect and he wants her to be the best she can be in her career. And, so, you see husband material Alex."
It also sounds like Grey's Anatomy may be getting back to its roots of focusing on the patients. I mean, nothing will ever come close to the Denny and Izzie saga, but I can dream. "In the premiere, you're going to meet some patients that stick around for a while," Luddington said. "Also, I just have to say we have some crazy medical [incident] that ends up happening this season early on. We were in table reads and turning the page, and you think it's just sort of a regular patient moment, and then you're like, 'What?'"
Grey's Anatomy showrunner Krista Vernoff teased Meredith's return to the dating scene when she spoke with TVLine in September — Meredith is going to put herself out there. "I can't tease who she will end up with, but I can say that it is going to be a joyful, funny, complicated journey to get there," Vernoff said.
Just in case you need a refresher course and you aren't knee-deep in Reddit theories and discussions like I tend to be, Season 14 left off with promises of some pretty big storylines to come. Meredith and DeLuca kissed, albeit awkwardly, which will no doubt be addressed in the Season 15 premiere. Jo and Alex are now — finally — happily married and hopefully on a path to some better days as a couple and as individuals. Teddy showed up pregnant after one night with Owen in Germany. And, sadly, April and Arizona left Seattle Grace, and the show, for good.
There may be a lot of changes going into Season 15, but you better believe you can count on the drama.