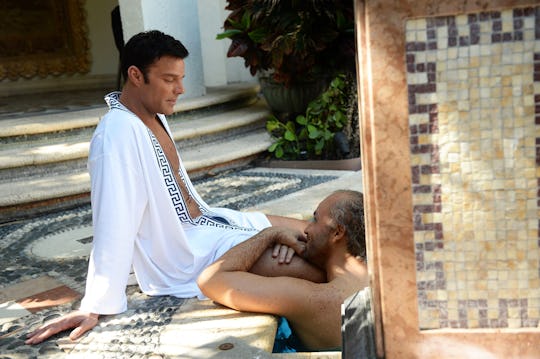 Jeff Daly/FX
Versace & Antonio's Time Together Was Cut Heartbreakingly Short
After just one episode of The Assassination of Gianni Versace, viewers could see some of the very unfair obstacles the gay community faced back in the '90s. When Gianni Versace's longtime boyfriend, Anthony D'Amico, was questioned by the police about his murder, the detective had a hard time understanding their relationship and whether they were more serious or casual. But how long were Gianni Versace and Antonio D'Amico together in real life?
Although there's been some controversy over the historical accuracies of the show (more on that later), Ricky Martin's D'Amico wasn't lying when he said that they'd been living together as a couple for many years. In fact, Versace and D'Amico were together for 15 years before Versace was killed on the front steps of his Miami Beach mansion in 1997. That's a long time by anyone's standards, let alone a celebrity in the public eye. But as shown in The Assassination of Gianni Versace, D'Amico still wasn't able to have as strong of a relationship with Versace's family, namely his sister Donatella Versace, as he might have liked before and even after the murder.
"My relationship with Antonio is exactly as it was when Gianni was alive," Donatella told The New York Times in 1999. "I respected him as the boyfriend of my brother, but I never liked him as a person. So the relationship stayed the same."
Even so, Versace and D'Amico's relationship seemed to have been born out of mutual respect and love for one another. According to In Touch Weekly, they met in 1982 when D'Amico was working as an office executive and eventually, Versace had so much faith and trust in the younger man that he put him in charge of the Versus Sport and Istante fashion line. In an interview with The Observer, D'Amico recalled the morning Versace was shot and killed in front of the house and admitted to going into a deep depression following his longtime boyfriend's death.
"I felt as if my blood had turned to ice," he said, of hearing the gunshots before going outside, adding:
The house had stained glass windows so we couldn't see what had happened from inside, so we had to open the gate. I saw Gianni lying on the steps, with blood around him. At that point, everything went dark. I was pulled away, I didn't see any more.
Unfortunately, he also added that Martin's portrayal of him finding Versace's body was "ridiculous" and added, "Maybe it's the director's poetic license, but that is not how I reacted."
The Assassination of Gianni Versace is based on Maureen Orth's non-fiction book Vulgar Favors, however, the Versace family have released multiple statements to publicly distance themselves from the miniseries. In it, they referred to American Crime Story's second season as "a work of fiction" and that the family has "neither authorized nor had any involvement whatsoever."
FX's own statement about the miniseries supported the book on which the season is based and stated that they "stand by the meticulous reporting of Ms. Orth." More recently, the Versace family released another statement in which they referred to Orth's book as "second-hand hearsay that is full of contradictions," continuing to drive home the fact they they neither support nor corroborate the events of The Assassination of Gianni Versace.
It's now been 20 years since Versace's murder, but thankfully D'Amico has managed to move on with his life and currently lives in the northern Italian countryside with his boyfriend, according to The Observer. He's even back in the fashion world as a designer himself of golf sportswear. Despite his own disapproval over Martin's portrayal of him in the miniseries, D'Amico seems to have found peace and come to terms with Versace's death after their 15-year relationship.
Check out Romper's new video series, Romper's Doula Diaries:
Watch full episodes of Romper's Doula Diaries on Facebook Watch.