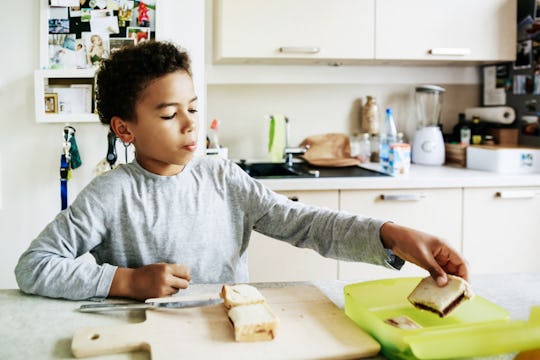 Tom Werner/DigitalVision/Getty Images
Experts Explain How Lunchboxes Can Help Picky Eaters, Even At Home
Picky eating is something nearly every parent deals with at some point or another, and there's really no end to just how choosy children can be. Even pizza can pose a problem in my household: Kid #1 wants square pizza, kid #2 wants round, kid #3 wants it without the sauce, and kid #4 won't eat it at all. That's one reason I'm glad the summer is coming to an end: Back-to-school means back-to-lunchboxes, and lunchboxes are secretly great for picky eaters.
Whether you're packing it for your kid to take to actual school or to the living room for remote learning, there's something about a lunchbox that makes the same old foods seem way more appetizing. "The lunchbox can oftentimes be the only source of comfort if they're having a particularly stressful or hard day," Dr. Sanam Hafeez, PsyD, a New York City-based neuropsychologist, tells Romper. So you want to make sure your kid's lunchbox is especially appealing to them.
Sometimes it's just as much about personal gestures (like the lunchbox note) as it is about the actual food that'll put them at ease; sometimes it's the design of the lunchbox itself. We spoke to experts who shared six reasons why a lunchbox can be a huge help to parents of picky eaters.