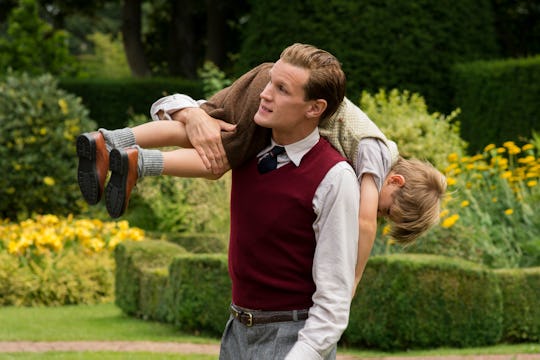 Alex Bailey/Netflix
How Many Children Does Queen Elizabeth Have? 'The Crown' Follows Her As A Mother Too
In the new Netflix series, The Crown, Queen Elizabeth is seen dealing with Prince Philip's transition from naval officer to prince and it's not always pretty, as he has a hard time letting go of his former pre-royal life. But it's clear right from the very beginning that despite the many obstacles they faced throughout the season, they both love their children very much. However, their family will only continue to grow from here. But how many children does Queen Elizabeth have? Based on Season 1 alone, The Crown has done a pretty accurate job of proving that running a country as a monarch is hard work, especially when you have a family who also requires your attention. So it may be hard to imagine Elizabeth adding even more responsibilities onto her plate, but that's exactly what's going to happen.
Where her actual children are concerned, Queen Elizabeth has four, two of which were already born when she became the Queen of England. These are the two young children viewers have seen so far: Charles, Prince of Whales, and Anne, Princess Royal. Her other two children, who were born a few years after she began her rule, are Prince Andrew, Duke of York, and Prince Edward, Earl of Wessex. If all of these titles and countries are failing to impress you or make you understand the royal family any more, that's totally OK. Just know that each of Queen Elizabeth's children are important to the monarchy.
So far on The Crown, there hasn't been too much focus on Queen Elizabeth's children, except to remind viewers that while she's running a country, she is also raising a family at Buckingham Palace with Prince Philip. And here's who they grew up to be...
Prince Edward
Prince Edward, Earl of Wessex is the youngest of the Queen's children. At 52 years old, he is ninth in line for the throne. He graduated from the University of Cambridge in 1986, becoming the fourth of five members of the Royal Family in history to have obtained a college degree.
If you remember, on The Crown, Queen Elizabeth actually hires herself a tutor because she realizes how minimal her education was, so having a son who graduated from a university is a big deal.
Prince Andrew
Prince Andrew, Duke of York is, at 56, the second oldest son of Queen Elizabeth and Prince Philip. He was previously married from 1986 to 1996, but the marriage ended in a divorce that, as to be expected, received plenty of media attention. Now, he's more known for his charitable work with organizations like Fight for Sight, a charity that focuses on research of the treatment and prevention of blindness and eye disease.
Princess Anne
Anne, Princess Royal, is the only daughter of Queen Elizabeth and Prince Philip and is also a divorcee, who remarried her current husband, Sir Timothy Laurence, in 1992. In 1974, there was an attempt at kidnapping Princess Anne and when the kidnapper shot her bodyguard and driver and ordered her out of her car, she reportedly replied with, "[Not] bloody likely," which kind of makes you think of the bravery and fire that is shown of both her mother and her aunt, Princess Margaret, in The Crown.
Prince Charles
Queen Elizabeth and Prince Philip's oldest child and son, Prince Charles, is next in line for the throne. Following him in the line of succession is his own eldest son, Prince William. Prince Charles is probably the most well-known child of Queen Elizabeth, having been married to Princess Diana and being the next heir to the throne. A 2008 article in The Telegraph declared Prince Charles as being the "hardest working royal," after having been involved in 560 events for that year alone. Unlike Queen Elizabeth, though, he probably didn't have to lead a convoy in a slow-moving convertible in 100 degree heat.
Queen Elizabeth has four children, who are all well into their adult years by now, but The Crown has only just begun to follow her life as a ruler, and if there are the six planned seasons spanning her entire royal career so far, viewers will most likely get to see her children grow up too. And who doesn't want to see a young, beautiful, and lively Princess Diana make an appearance?