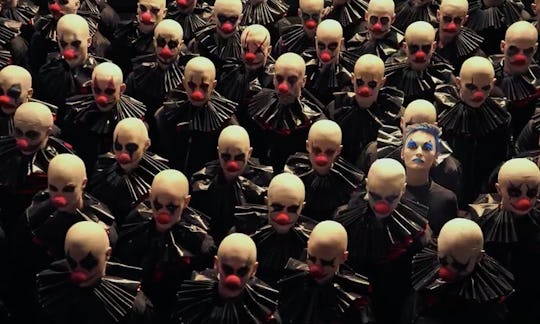 FX
'American Horror Story' Fans Will Get An Extra Dose Of Horror In 'Cult'
Every season of American Horror Story, fans speculate for months on what the new theme will be and very few times are they disappointed. So when Season 7 was announced to premiere in September, there was that familiar speculation about what it will entail, who will be returning in new roles, and how many episodes there are of American Horror Story: Cult to look forward to.
Creator Ryan Murphy teased the details of the new season quite a bit throughout the past several months and revealed that not only will the election have something to do with newest installment, but that some components from American Horror Story: Freak Show would be involved as well. Judging by the previews for the new season, we know that the horrors begin shortly after the 2016 election night and that everyone's favorite terrifying American Horror Story clown, Twisty, will be making an appearance in some way. (I can practically picture the nightmares I'm going to have already.)
According to The Hollywood Reporter, American Horror Story: Cult will have 11 episodes total, which is a little different from most seasons having 12 and Season 6 containing just 10 episodes, but you won't hear any complaints from me. Curiously though, the new season of American Horror Story will be on Tuesday nights instead of the Wednesday night time slot fans have become used to, with the season premiering on Sept. 5.
Evan Peters and Sarah Paulson are set to return as leads, as per usual, and everyone's favorite mean girl Emma Roberts will also have a small role this season. Unfortunately, Kathy Bates' filming schedule for another show interfered with her ability to appear in American Horror Story: Cult, but there will be a cameo by Lena Dunham (Girls) and Paulson will play opposite Alison Pill (The Family), who is taking on the role of her wife. Peters, as indicated in the latest trailer for the new season, will play an avid Trump supporter who, according to Murphy, will play a cult leader in American Horror Story: Cult as well as some other famous cult figures in history, like Charles Manson and Jim Jones, just to name a few.
As usual, there are sure to be some big scares and the promotion for this season has given fans plenty of reason to have high expectations, from the creepy clown videos to the interactive website welcoming fans into the "cult." The casting alone is going to make the new season worthwhile and even though there is an odd amount of episodes of American Horror Story: Cult, it's still more than last season and I think I speak for most fans when I say that I'll take them where I can get them.