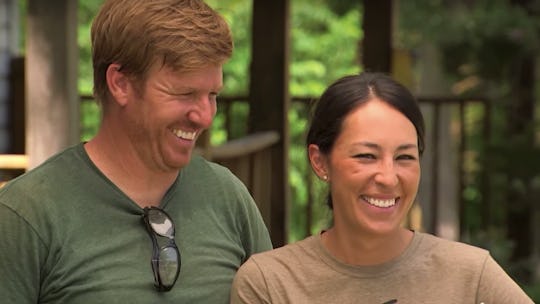 HGTV
Chip & Joanna Gaines Have A New Show Coming To HGTV That 'Fixer Upper' Fans Will Love
Even though Fixer Upper couldn't go on forever, it doesn't make the series finale any easier to handle. At the very least, though, the show did give birth to a spin-off of sorts, even if it might be short-lived. But since it's the best thing for Fixer Upper fans to enjoy as they mourn the end of the show, they're probably wondering how many episodes Behind the Design is. The new HGTV show will delve into the behind the scenes secrets from different home renovations over the years and go into how and why Joanna Gaines decorated and designed each room of the completed dream homes.
The plan is for the show, which premieres on April 10 at 8 p.m. ET, to air after its corresponding Fixer Upper rerun and coincide with the decoration of the home that was renovated in the preceding episode. That being said, the plan seems to be for Behind the Design to air just 15 episodes in its first season. There's no word yet on whether or not the plan is to continue the show beyond that somehow, but even without new home renovations or projects as often as those of the Gaines' previous show, Chip and Joanna could still potentially continue on with their new HGTV series.
One of the reasons the couple cited for ending Fixer Upper after five seasons had to do with their family. "We gave everything we had to this show — the beautiful homes and those sweet families — but this just felt like the right time to catch our breath for a bit," Joanna told People back in October 2017. Chip added:
We would rather stop here, where we still feel we're in a really good place. We have the chance to regroup and refresh and find out in two years, thank God we stopped and gave each other time and energy and loved our family more than we would've had the resources to do otherwise. Hopefully that will pay dividends down the road.
And with a new baby on the way to add to their family, that's totally understandable. However, if they were to continue with Behind the Design in some capacity, they might still be able to make it work. Renovating homes is part of their overall business and although HGTV required that they work and film nearly year-round, they could still go into the designing and decorating side of things, even without renovating a new home each week. When the show began in 2013, their four children were small and their family's brand was just beginning. Now, they've written books, opened stores, have their own line of home goods with Target, and now another show.
Chip and Joanna are basically a staple of HGTV and it honestly wouldn't be the same without them. Behind the Design is planned to span 15 episodes for now, but the millions of fans who follow the Gaines duo aren't going anywhere. So if they decide that they can make the time to continue with their new show, then chances are, HGTV will help them make it work.
For now, fans can expect more than a dozen episodes of Behind the Design to kick off the new series, which will give viewers a look into the other journey behind decorating and staging these one-of-a-kind homes that Chip and Joanna have created for clients over the years. Joanna will be able to showcase what works and what doesn't as viewers watch her go through the process with each renovated home.
Check out Romper's new video series, Romper's Doula Diaries:
Watch full episodes of Romper's Doula Diaries on Facebook Watch.