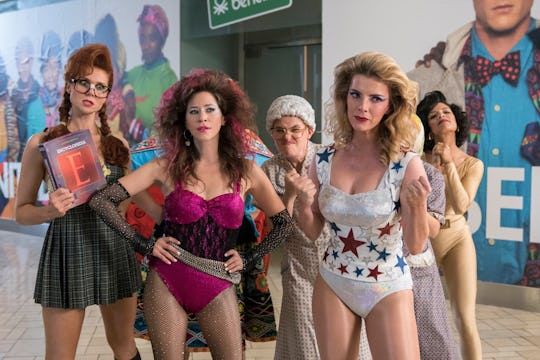 Erica Parise/Netflix
'Glow' Season 2 Will Have Just The Right Amount Of Episodes To Draw You In
In its first season Glow, loosely based on real-life female wrestlers from the '80s, brought to life a motley cast of colorful characters that kept fans clicking the "Next Episode" button on Netflix. And now that Season 2 is almost here, it's just about time to get ready for another Gorgeous Ladies of Wrestling marathon. So, how many episodes is Glow Season 2? The Netflix series still has a lot more story to tell, especially since these wrestlers are just getting started — both in and outside of the ring. If Season 1 was about getting this ragtag team together and just getting on the air, then Season 2 will likely be about their meteoric rise to semi-fame.
According to Deadline, Glow Season 2 has 10 episodes to tell the next part of the story. Glow is a half-hour comedy series meaning that, like other Netflix comedies, there's a good chance that many people will breeze through those 10 episodes. I seriously can't be the only one with zero self-control who happily watches every episode, one after the other, until I've finished the entire season in one sitting can I? Hopefully that means that there will be plenty more seasons of this show in the future, because around five hours of this stuff in a season is hardly enough.
During the first season of Glow, we meet a group of women from various walks of life who all decided to audition to be part of the Gorgeous Ladies of Wrestling for different reasons. Among these women is Debbie, who came to audition for the wrestling show after quitting her job as an actress on daytime TV to be a full-time-mom. She was also dealing with her crumbling marriage (because her former BFF and eventual ring mate had been having an affair with her husband). Betty Gilpin, who portrays the character, spoke to Deadline about what fans can expect for her character and the other women moving forward.
"We pick up a couple weeks after Season 1 ended, and they've been picked up to series, and now it's about them making the show, and strangely, about females finding their voices as creators and creatives behind the scenes," Gilpin revealed. She also referred to the experience itself, of playing this wrestling performer, as a "powerful transformative thing."
Gilpin also told TVLine that fans can expect a lot more of the same intense wrestling matches for Season 2 of Glow. "I mean, I just had a wrestling match with a character that won't be named, and a week later I still feel like my soul was in a five-car pile up," she said. "And it feels amazing."
We can also expect to see some of the women of Glow realize their potential in other ways as well. "[Debbie] does get involved in the behind-the-scenes," Gilpin revealed, suggesting her character will get to do some directing of the show within the show. "Both her and Ruth [Alison Brie] share that creativity… I think realizing that that can be channeled into a job is eye-opening for [Debbie]."
A full 10 episodes of women realizing their potential and learning new ways to support their growing TV show? I could honestly go for double that amount of episodes. It'll also be interesting to see how the Debbie and Ruth dynamic plays out, since their fraught dynamic provided much of the first season's drama. Perhaps, through the experience of being a part of this new show together, the characters are able to somehow mend their friendship. Let's just hope that the season leaves off with as hopeful a tune as the first season did.