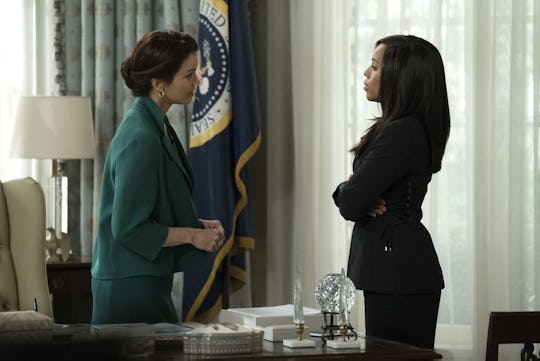 Richard Cartwright/ABC
Don't Miss A Single Episode Of 'Scandal's Final Season
Get ready gladiators, because the final days of watching Olivia Pope and company fight for the white hats are upon us. On the one hand, it means that every character and every storyline is sure to get closure at the end of it all, but on the other hand, it also means that when it's done, that's it. But since there's still a whole season to go before the finale, how many episodes is Scandal Season 7? The final season has a lot to fit in and, according to TVLine, 18 episodes is going to have to be enough to do it.
In the past, apart from the shorter premiere season, Scandal has had anywhere from 16 to 22 episodes per season, varying because of Kerry Washington's pregnancies in most cases. So 18 is at least a decent amount of episodes for Scandal's final season to be able to end properly. Back in May, ABC chief Channing Dungey said in a statement that Shonda Rhimes' decision to end Scandal after its seventh season was something everyone is in full support of: "Shonda has decided the series needs to come to a close, and while this is definitely a bittersweet moment for all of us gladiators, I have no doubt what she has in store for the final season will be as powerful as what's come before, and we will be sure to honor that every step of the way."
If the way Season 6 ended is any indication, fans will no doubt be pleased with the way everything is wrapped up in those 18 remaining episodes.
When we last saw Olivia, Fitz, and everyone else, Mellie found herself in the Oval Office (finally) with Cyrus as her vice president and Olivia as her Chief of Staff after she made Frankie Vargas' widow, Luna, commit suicide after Olivia found out it was Luna who was behind Frankie's assassination with Cyrus' help. But since Olivia also secretly started B613 back up again, she and Cyrus both have each other' secrets to keep now. And, as Cyrus told Olivia in the Scandal Season 6 final, "Sounds to me like we both got what we wanted."
TVLine recently shared that Olivia's white hat won't necessarily be traded in for a black one this season, but that she's going to be walking the line. "There's a good chance you'll fear her more than you have in the past," the site teased. "She may not be working at OPA anymore, but as you'll see in Thursday's season premiere, she isn't afraid to get her hands dirty. The season premiere also finds Olivia delivering what just might be the longest speech in Scandal history, so strap in." But since we all love a good Olivia Pope monologue, I am definitely here for that.
With Fitz out of the White House at the end of Season 6, Abby was free to join QPA (Quinn Perkins & Associates), formerly OPA, and speaking of Quinn, she's officially Charlie's bride-to-be and also pregnant with his child, so Season 7 will have no shortage of excitement to kick off the season. But, according to the Scandal premiere description on TVGuide.com, it's going to be a little difficult for the newly revamped QPA to gain its footing since Olivia Pope is no longer at the head of the table, as Olivia herself is already struggling with her bigger responsibilities 100 days into Mellie's presidency.
Luckily, Season 7 of Scandal has 18 episodes to round things out in the most concise way. Not only does it allow Olivia to do some good while helping Mellie and Cyrus run the country, but it also lets Quinn and the others build up the new business as the city's best "fixers." And along the way, if there's a little government conspiracy and the cleaning up of dead bodies, well that's just par for the course.
Watch Romper's new video series, Romper's Doula Diaries:
Check out the entire Romper's Doula Diaries series and other videos on Facebook and the Bustle app across Apple TV, Roku, and Amazon Fire TV.