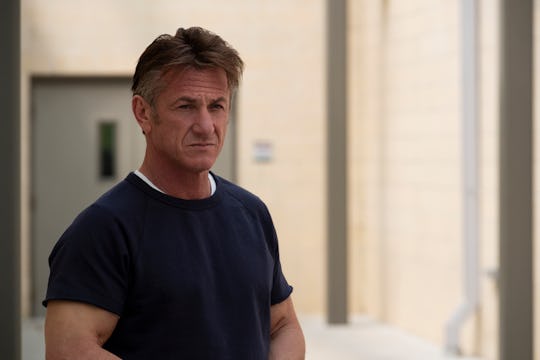 Alan Markfield/Hulu
'The First' Has A Shorter First Season Than Some Other Hulu Shows
The First is an original drama from British network Channel 4 and Hulu about a group of five astronauts on their way to become the first humans to reach Mars. That's a big story, so viewers are likely wondering how long the first season lasts. So, how many episodes is The First?
According to Variety, its first season has eight episodes. That's eight (or so) hours for creator Beau Willimon's (creator of Netflix's House of Cards) story to unfold. Or at least, the start of his story about five astronauts chosen to begin colonizing the planet Mars.
With an ensemble cast led by Sean Penn, The First not only deals with the astronauts on their way into space, but also their families and friends who may or may not support their decision to take on this life-changing task. Penn himself plays one of the astronauts, who also has a teenage daughter and probably a ton of reasons why he shouldn't be going into outer space indefinitely.
Regardless of how daunting it might be to play the layered, difficult role, though, Willimon seems to have total faith in Penn. "I have such deep admiration for Sean's immense talent and extraordinary body of work," Willimon in a statement, according to TVLine. "I feel very lucky to be collaborating with an artist of his caliber." For the most part, Penn's scope of work has been on the big screen, so this is kind of a good snag for The First, and he will hopefully help earn the show future seasons as well.
I'm not sure if The First Season 1 will show the actual trip to Mars or if the eight episodes will focus entirely on the astronauts making up their minds whether or not to go at all. I could see the season ending with the start of their rigorous Mars training, but hopefully eight episodes is enough to round out the characters and keep viewers coming back for more.
Unlike most shows on the other streaming giant, Netflix, Hulu typically sticks to the format of airing new episodes of its original content every week, as opposed to releasing entire seasons at once. Not this time, though. Even though The First is an original Hulu series, all eight episodes will be available for streaming at once, which might be a pleasant surprise for those who like to consume their television en masse.
It's not uncommon for Hulu to grant shorter first seasons to its original series. The Handmaid's Tale, for example, premiered with 10 episodes, but Season 2 was given a 13 episode order. And The Path, which only recently ended, also had 10 episodes during Season 1, but 13 in Seasons 2 and 3. Although The First's future is uncertain right now because it's still so new, it's possible that if there's a second season, the episode order could be bumped up from eight.
Hopefully, eight episodes will be enough to at least get The First up and running on the right foot. If not, I suspect there will be some seriously upset astronaut fans.