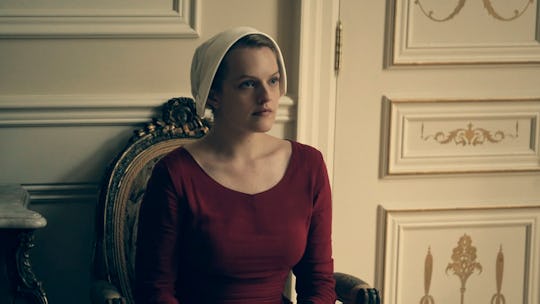 George Kraychyk/Hulu
'The Handmaid's Tale' Season 2 Is Blessing Fans With Even More Episodes
The first season of Hulu's Golden Globe and Emmy Award-winning series The Handmaid's Tale was based off Margaret Atwood's novel of the same name, but its second season has no book to potentially spoil things for viewers and it's hard to guess how it will all go down. Since that's the case, almost anything can happen and the show may need more time to fit everything in. So how many episodes is The Handmaid's Tale Season 2? According to Harper's Bazaar, Season 2 will be made up of 13 episodes, so there will definitely be even more content and a deeper look into Gilead and what the women of the newly formed country have to live and die for. When the show returns to the streaming platform on Wednesday, April 25, fans will get to watch Offred, a.k.a. June as she navigates her way through whatever Nick got her into when he helped her escape the commander's house at the end of Season 1 — if that is, in fact, what he was doing.
Judging by the previews for The Handmaid's Tale Season 2, June isn't going to be the only handmaid who has a life different from what viewers saw during the show's inaugural season. At one point, there's a flash of Ofwarren, a.k.a. Janine, working in what was described in the book as the Colonies, a place where infertile — or what Gilead qualifies as useless women — are sent to clean up toxic waste for the remainder of their lives. Needless to say, somehow it seems like things are going to be more bleak than ever, so having 13 episodes for Season 2 is probably necessary.
Season 1 remained loyal to Atwood's 1985 novel and followed the story closely as readers remember it. Because of that, the first season had a predetermined outline of sorts. For Season 2, however, The Handmaid's Tale showrunner Bruce Miller told Variety that it gave the writers the chance to expand on the fictional world within the book and the show. "The end of the book is so frustrating for people. Part of the point of that ending is that it just leaves you hanging," he said. "Here we do some un-hanging and the story continues. So that's satisfying — for all of these years you think, 'What happens next?' And now we get to explore some of that stuff."
Miller also revealed at the Television Critics Association press tour that Season 2 will be flashback heavy, much like Season 1 was, in order to tell the entire story of how Gilead was formed and how the impact of an entire change of government affected the press as well as the people. Alexis Bledel, who won a Primetime Emmy for her role of Ofglen, aka Emily, praised the show's writers for a well-crafted sophomore season that goes into this dystopian world even more than Season 1 did. "Our writers have crafted this incredible new story," she told Women's Wear Daily. "It takes things even further, which I didn't know was possible. It's absolutely brutal. It's a harrowing tale to see it all unfold. I was surprised by three major plot points that my character was a part of. That's a sign of amazing writing."
Elisabeth Moss (June) also revealed to the outlet that there are some pretty intense scenes this season that might even top last season, if that's even possible. This is probably why the writers felt it necessary to make The Handmaid's Tale Season 2 span 13 episodes, as opposed to keeping it at 10 episodes like last year. Thankfully, Hulu's original shows are released weekly rather than all at once, so viewers will be able to have a week in between each new episode to digest everything (apart from the two-episode release this week). But even so, it seems like Season 2 is going to be a lot to handle.
Check out Romper's new video series, Romper's Doula Diaries:
Watch full episodes of Romper's Doula Diaries on Facebook Watch.