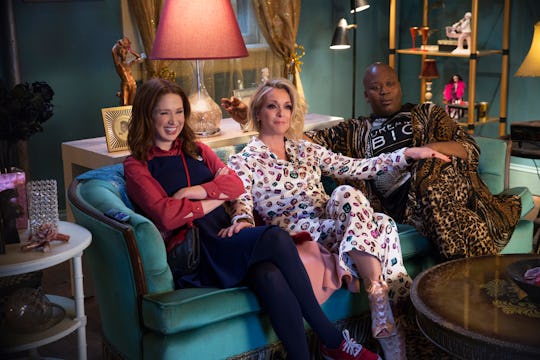 Eric Liebowitz/Netflix
How Many Episodes Is 'Unbreakable Kimmy Schmidt' This Season?
The unthinkable has finally happened. Netflix is giving Unbreakable Kimmy Schmidt the boot, but at least we as fans have some kind of fair warning to best prepare ourselves for the goodbye to all of our favorite quirky characters. Since this is the last season, though, it definitely makes you wonder, how many episodes is Unbreakable Kimmy Schmidt Season 4? The final season will be broken up into two parts, which means less content at once, but a longer and more drawn out send-off to really give fans the time to say goodbye to Kimmy and her merry band of friends that we all know and love.
Deadline reported at the beginning of May 2018 that Season 4 will consist of a total of 13 episodes. The first part, which premieres on Netflix on May 30, will contain six episodes, with the remaining seven set to premiere on the streaming platform at a later yet-to-be revealed date. So basically, you'll be able to watch the first half of Unbreakable Kimmy Schmidt Season 4 in one sitting without even needing an entire day to do so. I know, it's a sad thought, but there is a light at the end of the dark, dark tunnel.
But, that's not all! It has also been reported that after both parts of Season 4 have aired, there's a good chance that Netflix will then premiere a full-length movie to really bring the series to an end. Although Netflix hasn't confirmed this report just yet, it definitely brings a little glimmer of hope.
One of the promos for the new (and final) season of Netflix's first-ever half-hour comedy series shows Kimmy getting ready for work with a very Mary Tyler Moore Show-esque theme song playing in the background. She's still living in the tugboat — er, basement apartment -- with Titus and still sleeping in her closet bedroom, but she's as chipper as ever as she gets ready for what I can only assume is her first day at her first real, adult job. Kimmy has gone from nanny to college student to Uber driver throughout the past few seasons, so hopefully this is the start of her really embracing adulthood. Well, as much as you can hope for since she is Kimmy and she will forever exude that childlike innocence. The end of the clip shows Kimmy being told by her boss that she has to fire someone, bringing the music to a literal screeching halt.
I'm not sure if that's meant to set the tone for the final season of Unbreakable Kimmy Schmidt, and hint that it will be full of grown up moves and big steps forward, but you also have to assume (and hope) that all 13 episodes of the final season will bring more laughs and outrageous comedy gags that the show has become known for over the years. Since Season 1, Kimmy has managed to collect a tight-knit group of ragtag friends, including her landlord Lillian, former boss Jacqueline, and BFF roommate Titus, and they're literally all amazing in their own unique ways.
Tituss Burgess (Titus) recently spoke to the Atlanta Journal Constitution about Season 4 of Unbreakable Kimmy Schmidt and what he hopes for his character, who's made his mark on the series with multiple music videos and one big love interest. "All I can hope for [Titus] is to be happy and get a job. I want what he wants," Burgess said. He also added that because Titus has "always loved Mikey," that may be the driving force to get Titus to see some real success and prolonged happiness in the show's final season. "He wants Mikey to view him as someone who is participating in life in general. He doesn't want him to be lazy and stay at home. Love makes him do things."
Hopefully in 13 episodes, these characters can reach their goals and leave an even bigger lasting impact than they've already left on so many dedicated fans. We'll miss you, Kimmy Schmidt!