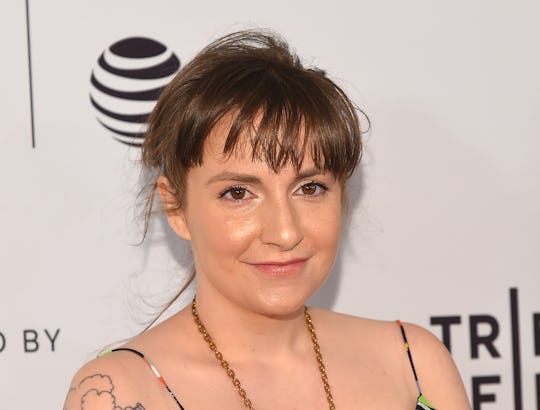 Ben Gabbe/Getty Images Entertainment/Getty Images
Lena Dunham's Time On 'AHS: Cult' Will Be Far Too Brief
Guest-starring cameos on American Horror Story are nothing new and right from the beginning of the series, big names were brought on for quick scenes or one or two-episode arcs. So if Lena Dunham's role is more short-lived than permanent, it would make total sense. But since she has plenty of fans who likely are already AHS viewers, they might be wondering how many episodes of AHS: Cult will Lena Dunham be in?
Since she'll be playing in Episode 7 as Valerie Solanas, a real person who shot and attempted to kill Andy Warhol, in Episode 7, it looks like she'll get just one episode to bring her into the AHS family. In fact, Deadline reported that Dunham's role on AHS: Cult will be for one episode rather than a multi-episode arc, but that's likely because she's playing a real person rather than a fictional character, and one who is no longer alive at that. However, since the episode is titled "Valerie Solanas Died for Your Sins: Scumbag," it looks like a majority of the hour will be dedicated mostly to her.
Judging by the promo for Episode 7, it's going to be about the cult of Warhol's personality and allow viewers to see flashbacks of his following as well as the attempt on his life that Solanas planned and carried out. But during the present day on AHS: Cult, it will likely be more of a way for Beverly to realize that she would rather be a leader than one of Kai's followers.
Solanas was a writer in 1960's New York who went to Warhol with a reportedly lurid and almost offensive play she wanted him to produce. Instead of doing that, he basically dodged her calls until she demanded the script back. When he claimed to have lost it, he paid her back by giving her $25 and offering her a part in one of his famously underground films. On AHS: Cult, viewers will likely see Solanas' attempt at killing the artist, but since the whole point of the flashback will likely be for Beverly to realize what she needs to do to rise above Kai, one episode is really all that's needed for Dunham to play Solanas.
And according to IMDB, Dunham's next big project is writing a remake of the German film Toni Erdmann, so even if she was originally needed for more than one episode of AHS: Cult, her schedule probably wouldn't have allowed for it. Really though, if co-creator Ryan Murphy calls you to appear on AHS in any capacity, you say yes, so at least fans are getting Dunham for one seemingly epic episode.
Since it was reported before the season even began that Peters would be playing multiple cult leaders throughout AHS: Cult, Dunham's episode of AHS: Cult is going to be the one to start with when he portrays Warhol in Episode 7. In the remaining episodes of the season, Peters will also take on Charles Manson, Jim Jones, and David Koresh at different times, but with Dunham's portrayal of Solanas, she's going to play a big role in ushering in the first of Peters' cult leader portrayals. It's never easy to play sadistic or inherently unlikable characters, but somehow Peters manages to get it done every time.
As far as Dunham working with some of the core AHS cast, I wouldn't be surprised if Murphy asked her back in the future. Peters, who will play Warhol in the episode, told Entertainment Weekly of Dunham, "She's a sweetheart. She did a great job and we had a lot of fun playing around in The Factory. I got a kick out of her." Do I sense Dunham making a future appearance as another character on AHS? It might be too soon to tell, but her one episode is obviously going to be an important one for the season.
Watch Romper's new video series, Romper's Doula Diaries
:Check out the entire Romper's Doula Diaries series and other videos on Facebook and the Bustle app across Apple TV, Roku, and Amazon Fire TV.