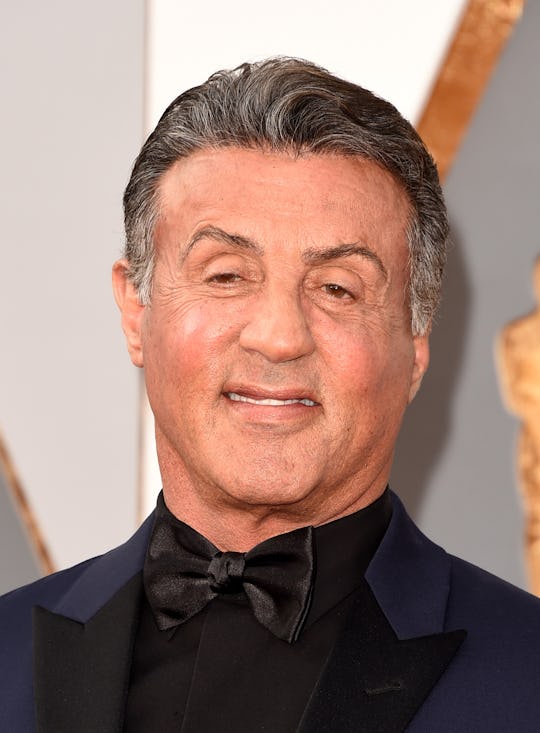 Jason Merritt/Getty Images Entertainment/Getty Images
Sylvester Stallone Is Heading To 'This Is Us' For An Important Role
The last fans saw of Kevin on This Is Us, he was off to Los Angeles to star in a Ron Howard film and potentially mess things up with his ex-wife Sophie for the second time. When Season 2 of the much-beloved drama premieres Tuesday night, things will pick up where they left off, including the filming of Kevin's movie, which will co-star Sylvester Stallone. But how many episode of This Is Us will Sylvester Stallone be in? Stallone's arc isn't going to be a long one, since creator Dan Fogelman revealed during the Television Critics Association Summer Press Tour that Stallone was booked for just one episode, but it's not likely going to be used as a shameless cameo, and instead an opportunity for growth for Kevin, who as it turns out, is a big fan of the actor on the show.
During the Television Critics Association Summer Press Tour, Fogelman revealed that Stallone's appearance on This Is Us could be the most important thing to happen to Kevin moving forward. According to Fogelman, Stallone, who works with Kevin on that Ron Howard movie, acts as a sort of "father figure" to him in the episodes to come and imparts some wisdom on him when he "hears what Kevin is experiencing in his life with his own father, and talks to Kevin a little bit about life and acting and memory and aging." Sounds pretty great, right?
The Academy Award-winning actor is set to play himself on the NBC series and it will definitely be something new for him, as he's mostly been a movie powerhouse for the past several decades. But as it turns out, Stallone has some special ties to the show, in a very big way. In real life, Milo Ventimiglia — who plays the Pearson family patriarch to the younger versions of Kevin, Randall, and Kate on the show — actually played Stallone's son in the 2006 Rocky Balboa film, so this cameo will serve as a type of reunion, even if the two stars won't share any screen time together. And, apparently, it was Ventimiglia himself who got Stallone to agree to the role for Season 2.
"I basically called [Stallone] with, 'Here's something that might be fun, and I'm sorry you and I aren't going to get a lot of screen time together, but I want you to know how much this impacts my character.' Because if you imagine that Sylvester Stallone is Kevin's movie idol, it's got to come from somewhere," Ventimiglia said at a recent Television Critics Association press event, adding:
Maybe that was his dad's movie idol. Maybe his dad goes through some pretty tough times and always goes back to that underdog story of the first Rocky... I picked the phone up and called him, and he was very engaged and receptive and excited and the emails went back and forth. He still remains one of the funniest, most terribly intelligent men that I've ever known.
Back in August, Stallone posted several photos while behind the scenes of filming This Is Us Season 2 and while he's only set to be in just one single episode, he obviously had a good time doing it.
Justin Hartley (Kevin) had only positive things to say about Stallone's one-off appearance. "He's full of great advice and great satires," Hartley told People. "I just like his energy. Just being around him, it's like, 'Wow that guy is just the epitome of cool.'" Hartley's Kevin has had a shaky road to stardom since quitting his role as the iconic "manny" and trying his hand at Broadway.
But when the end of Season 1 of This Is Us saw him get a call from Ron Howard about appearing in a big budget movie, it was also potentially the start of the serious movie career he's always hoped for. And now, with Stallone there to guide him (albeit, for one episode), the guest star's appearance is sure to make an impact.
Watch Romper's new video series, Romper's Doula Diaries:
Check out the entire Romper's Doula Diaries series and other videos on Facebook and the Bustle app across Apple TV, Roku, and Amazon Fire TV.