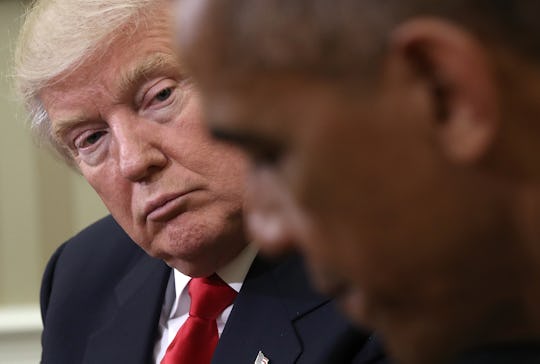 Win McNamee/Getty Images News/Getty Images
Donald Trump Is Filling His Admin With Top Donors
Self-described billionaire Donald Trump established as one of the central tenets of his unlikely campaign his independence from the major political donors who sometimes dictate Washington's agenda. Now, some experts are pointing out the president-elect's "raging hypocrisy" as he fills out his Cabinet with the wealthiest benefactors who were most generous to his campaign. Instead of draining the figurative "swamp" of American politics in which he believes the current president and other government elites fester, he's on his way to constructing the biggest and deepest one yet. To date, the number of government jobs Trump gave to donors is at six — a number that's actually smaller than the eight President Obama appointed in his first term, but the sums these donors contributed to Trump's cause far exceeds what Obama's allies chipped in.
In the caustic campaign months leading up to his eventual surprise defeat of Democrat Hillary Clinton, Trump hammered her for his perception that she'd allowed donors to her charitable foundation to influence her work as secretary of state. But according to a Politico analysis, 38 percent of the people the president-elect ultimately selected for high-level government jobs were donors to his campaign or allied organizations. And although Obama's first Cabinet included at least eight donors (mostly Democratic politicians), according to The Hill, none gave more than $9,000. Trump, by contrast, nominated Betsy DeVos to head up the Department of Education after her family gifted $10.4 million to Trump's campaign and PACs backing him — and his other appointees contributed similarly big bucks.
Trump's team has not responded to Romper's request for comment on the high-level appointments of top donors, how he plans to keep the government free of corruption despite these appointments, nor to questions about accusations that his picks make him guilty of the same offenses of which he accused Clinton and, to a lesser extent, Republican primary opponents like Florida Sen. Marco Rubio and former Florida Gov. Jeb Bush. But Norm Ornstein, a political scientist at the conservative-leaning think tank American Enterprise Institute, categorized the decision to usher the ultra-rich into such roles as deputy secretary of commerce and treasury secretary "an unbelievable and shocking disregard for propriety and conflict" and "raging hypocrisy" in an interview with Politico's Isaac Arnsdorf.
Traditionally, big time donors end up overseas as ambassadors or diplomats, according to The Washington Post. But Trump's incoming administration represents a a deviation from generally accepted norms; when he assumes his new post next month, many of those who let their money talk throughout the campaign will be in policy-making roles.
For example, professional wrestling exec Linda McMahon, whom Trump has tapped to run the Small Business Administration, is, along with her husband, the largest donor to Trump's foundation, according to Politico. Together, the two gave $6 million to a pro-Trump super PAC. Having contributed $160,000 to Trump's campaign, fast food company CEO Andy Puzder is now waiting for Senate confirmation to become secretary of labor.
Trump, for his part, defended his picks at a post-election rally in Des Moines, Iowa, earlier this month, when he had already appointed five billionaires to his Cabinet. "A newspaper criticized me and said, 'Why can't they have people of modest means?'" he said at the time, according to The Huffington Post, which also reported that, with a combined net worth of $14.5 million, his is the wealthiest Cabinet in history. "Because I want people that made a fortune! Because now they are negotiating [for] you, OK?"
Still, Trump's proclivity to reward his top donors means that his admin will contain more of them than any recent White House, and raises serious questions about whether they are actually qualified for their jobs and what their motivations are. When you buy a position instead of earning it, is your first priority enriching yourself or the good of the American people? It's a question that this country will see tested and answered over the course of Trump's upcoming term in office.