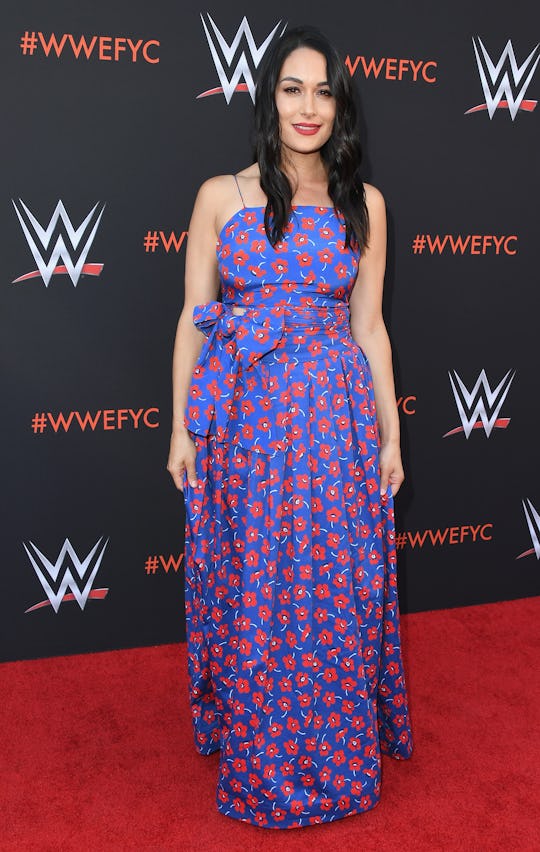 Jon Kopaloff/Getty Images Entertainment/Getty Images
How Many Kids Does Brie Bella Want? The WWE Star Has A Plan For Expanding Her Family
Brie Bella welcomed her first child about a year ago — and it's clear that she is so in love with being a mom. And while the WWE wrestler may choose to expand her family at some point, it's clear that she wants to accomplish a few professional goals before then. That being said, how many kids does Brie Bella want?
At the WWE Emmys For Your Consideration event in Los Angeles on Wednesday night, Bella spoke with E! News about the topic of welcoming more children. "I need to kick more butt in the ring still ... Next summer," Bella told E! News, when asked what she told her husband, wrestler Daniel Bryan, about having more kids. "In mom world that's like really close. So, next summer."
Basically, Bella is excited to give her daughter a little sibling — but she wants to spend a little more time at work before becoming pregnant again. And considering how freaking awesome she is a her job, that makes a lot of sense. "I'm so lucky to have an incredible daughter, and I think it's because I have an amazing husband," Bella added, according to E! News. "Our family is just laid back, but we just love each other so much and Birdie feeds off that."
Bella and Bryan welcomed their first daughter, Birdie Joe Danielson, on May 9, 2017, WWE reported. "The greatest feeling in the world!!! Can't even express the love I feel for her 💗 from the moment I saw her I was in love," Bella wrote on Instagram a few days after delivering Birdie. "Thank you all for your love and support. Birdie Joe is her Daddy's mini me!!✨🦋."
Bella has opened up about being a mother on several occasions over the past year. In April, for example, Bella, shared how she's raising her daughter, according to People:
I'll always let her know the things I believe in and why, but I'll never push them on her ... I was blessed to be raised in a family where they didn't push a lot of stuff on me. ... I was able to find who I am today and I want Birdie to have that.
It's no surprise that Bella wants to perhaps add another to her brood — not only because she loves being a mom to Birdie, but also because she had an amazing support system during her first time around. In a video Bella released several weeks after delivering Birdie, she opened up about her husband and sister's unwavering support during the delivery. She said, according to Redbook:
My husband never left my side, which was amazing. All the 21 hours he literally spent right next to me, helped me breathe through contractions, encouraging me ... My sister was there at 7 a.m. and she didn't leave my side ... She actually held one of my legs and helped me push.
It definitely sounds like babies are on the couple's minds lately. Bella also opened up on the topic of adding to her family in an interview with Access last month and it seems like Bryan is ready to welcome a new family member a little sooner than his wife. According to People, she told Access:
My husband would love to start trying now for baby No. 2. ... I'm like, "No, there's so many things I wanna do!" But we said definitely 2019's our year to start trying again, which is right around the corner.
It will definitely be exciting to watch Bella expand her family — but in the meantime, it's going to be equally awesome to watch her continue to kick butt in the ring.