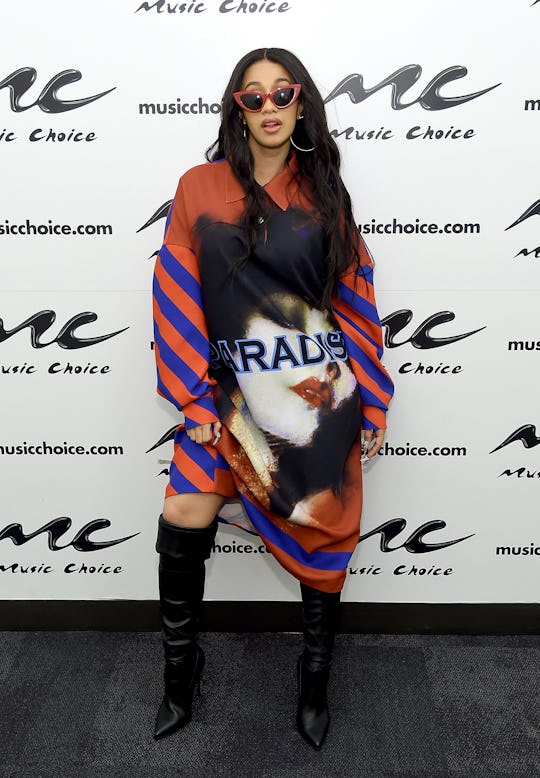 Jamie McCarthy/Getty Images Entertainment/Getty Images
How Many Kids Does Cardi B Want? Her Due Date Is Approaching Quickly
With just three more weeks to go until her due date finally arrives, the world is anxious to meet Cardi B's little girl. After announcing that she was pregnant on SNL just a few months ago, fans have been following along as Cardi does pregnancy... well, Cardi style. As she shares more and more details of her life as an expectant mom with the world, some fans may be left wondering: How many kids does Cardi B want? She and her fiancé Offset have yet to disclose their future plans.
Though she's spoken candidly about many aspects of pregnancy, Cardi B has yet to share whether she wants a few siblings to join her new daughter. (TBH, she might not be sure, it's a valid choice either way, and it's not anyone's business regardless.) But it's possible that Cardi B's sister Carolina Hennessy may have actually dropped a hint or two about her big sister's future plans.
"A baby is truly a blessing from god I know how much you always wanted to be a mom! You always been like a second mom to me so I know u gonna be the best mommy everrrr," she wrote on Instagram when Cardi first announced her pregnancy. "You took care of me like I was ur own daughter I know how much you LOVE babies. Growing up, you would always break me off a piece of your plate without me asking... to our little brother you give him whatever he imagines."
Of course, there's a lot to read into there, particularly the line in which she says: "I know how much you always wanted to be a mom!" and explains how well Cardi took care of her and their younger brother. Hennessy also mentions that Cardi "LOVES" babies, and while none of that directly tells us whether she'll want to have more, it is enough to safely assume that she'll probably consider it, at the very least.
What fans can know for sure, however, is that pregnancy isn't changing Cardi B... at least, not a lot. People reported on June 8 that she was receiving a lot of criticism for going out clubbing while 8 months pregnant, particularly because it was a space in which people were clearly smoking. (She has also received criticism for doing things like performing while pregnant, which just goes to show how unfair public opinion can really be.) However, Cardi was having none of the mom-policing, replying to the haters on Instagram:
SINCE YA CARE AND ARE SO CONCERN about my baby… Hit me in my DM for my registry and send me some Pampers and baby formula. Don't just comment like you care about my baby show it!! SEND THEM PAMPERS!
Cardi has also made it a point to shut down criticisms that having a baby will "end her career." Glamour reported that she said: "I started winning when the whole world was doubting on me. Think imma lose with my little baby counting on me?" But overall, the unnecessary and unasked for responses from the public is exactly why she chose to keep the pregnancy a secret for so long. "This is why I did not wanted to say nothing," Vulture reported that Cardi explained. "People be so thirsty to scrutinize and try to destroy something that is suppose to be a blessing."
A blessing it will be, and though it's still unclear whether Cardi and Offset will continue adding to the family after their daughter is born, what fans can count on is that Cardi B will be an amazing mom no matter how many kids she has, and she'll still be an amazing person and performer, too.