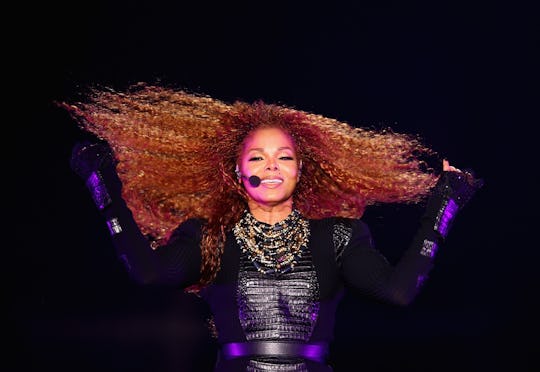 Francois Nel/Getty Images Sport/Getty Images
How Many Kids Does Janet Jackson Want? She's Expecting Her First
In April, Janet Jackson fans learned that she was postponing her tour because of the "sudden change" that she and her husband were planning their family. In her not-so-mysterious Twitter video, the pop singer stopped just short of announcing her pregnancy. Six months later, she's finally done just that, confirming that, at age 50, she's expecting her first child with husband Wissam Al Mana. An infamously private celebrity, Jackson has managed to keep most of the details of her pregnancy hush-hush, and the Twitterverse hasn't exactly been privy to any supposed family-planning sessions. So, there's no way to know how many kids Janet Jackson actually wants, but, honestly, it's enough to celebrate that her pregnancy seems to be a healthy and happy one so far.
The official pregnancy announcement came last week, and it was well worth the wait. People published a stunning photo of a radiant, very pregnant Jackson, and the size of her bump in the shot indicates that she's more than likely been expecting since April. "We thank God for our blessing," the "Dammn Baby" singer told the outlet, characteristically offering no other information about her birth plans, whether she's expecting a boy or a girl, or what the experience of pregnancy at 50 has been like for her.
Still, the soon-to-be mom hasn't been completely mum about her hopes for her family. Rumors that she and Qatari businessman Al Mana were dating began to circulate in 2010; then the two were married in what they later described as a "quiet, private, and beautiful ceremony" that the media did not know a thing about until the couple released a statement announcing their marriage the next year. Before all that, though, in a 2009 interview with Harper's Bazaar's Laura Brown, Jackson offered one small nugget about her feelings in a possible future with kids: "Sure, I'd adopt," she said at the time. "And I think that if I'm really supposed to have kids, it will happen, if that's God's plan for me."
Instead of worrying too much about the additional children she may have in the future, Jackson seems to be preparing earnestly for the one on the way. In late September, Entertainment Tonight reported that the singer had been spotted visiting a baby furniture store in London, where she and Al Mana have a home. The photos of that day show Jackson rocking a full on baby swell along with her sweatpants and sweater.
True to form, Jackson hasn't publicly indicated when she might be due, but Entertainment Tonight speculated that she's likely to give birth sometime in November. And her sister, La Toya, told the outlet that all is well. "She's resting," she said. "She's doing fabulous."
That's great news, and congratulations to Janet and Wissam.