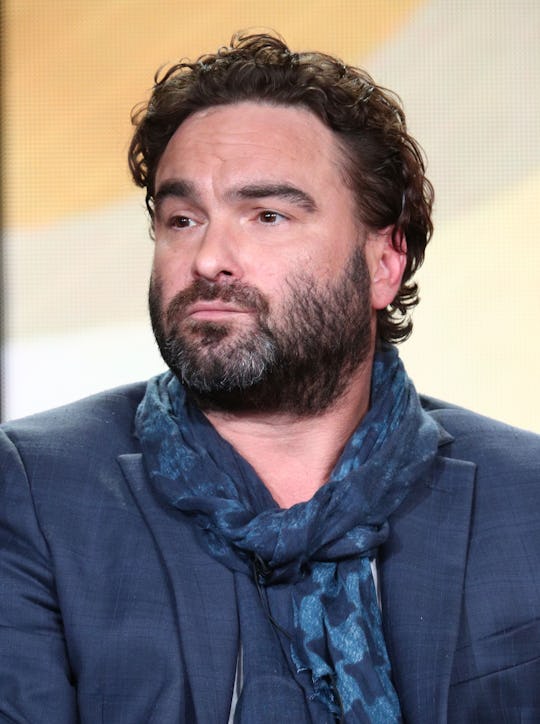 Frederick M. Brown/Getty Images Entertainment/Getty Images
The 'Roseanne' Revival *Needs* Johnny To Return
These days, a lot of TV shows are all about "shipping" different relationships and watching more than anything for certain characters to be together. But Darlene and David were part of one of the original 'shipped couples on prime time TV, so of course fans want them to be together in the Roseanne revival. But since the actor's real life schedule is pretty busy, how many Roseanne episodes will Johnny Galecki be in? David is definitely going to return in some capacity in the show's first season of the revival. Which is, technically, Season 10 overall, but that can get a little confusing.
As seen in one of the many promos released before the premiere of the Roseanne revival, David shows up at some point, looking a little disheveled and more like the 16 year old David fans remember rather than an adult version in present day. Since Darlene also mentioned having "no partner" in the premiere episode, it's safe to say that she and David are broken up, if not officially divorced. So since Deadline reported back in December 2017 that he'd be in just one episode, it all kind of made sense. Even so, never say never when it comes to some of the returning actors in Roseanne.
Since Roseanne's initial nine-season run ended in 1997, Galecki has had a number of roles in both TV and movies, but his biggest role to date, aside from Roseanne of course, is probably Leonard from The Big Bang Theory. Galecki has been a fixture on the CBS hit series since its premiere in 2006. Because of his filming schedule with the show, along with Living Biblically, a new show on which Galecki serves as executive producer, he was only able to commit to the one episode of Roseanne this time around. I know, David and Darlene fans everywhere are all collectively frowning in despair. But maybe Galecki didn't realize the success the revival would have after just its first episode alone.
Before the show's second episode even aired, ABC announced a renewal for the Roseanne revival, which means that the network obviously has high hopes for the series' comeback, but the proof is in the numbers as well. According to TV By The Numbers, the premiere episode brought in 18.44 million viewers, which is actually more than its original series finale, which saw 16.6 million viewers. It also had the biggest premiere out of the other shows on the network this season, so I'd say it's already garnered plenty of success. Since the next season following the revival will have a reported 13 episodes instead of nine, that gives Galecki even more opportunities to appear in the revival for more than the one episode he was able to allot for this season.
Galecki's work schedule is probably busier than it's ever been, but as he said after the Living Biblically panel at the Television Critics Association winter press tour in January, having multiple projects going on at once isn't an issue to him. "I don't sleep a lot," he said. "But that's okay. I've always been a workhorse, so I enjoy it. And as I've said, the production side is a very different muscle." He went on to say that if Roseanne were to return for yet another season after the initial one following its revival, he "would love to do more than one next year."
As long as his schedule allows for the time needed to film more than one episode next time, then I don't see why Galecki wouldn't be able to come back as David yet again. Only this time, he'd be able to give even more to fans, because somehow the Conner household just isn't the same without the dynamic between Darlene and David.
Check out Romper's new video series, Romper's Doula Diaries:
Watch full episodes of Romper's Doula Diaries on Facebook Watch.