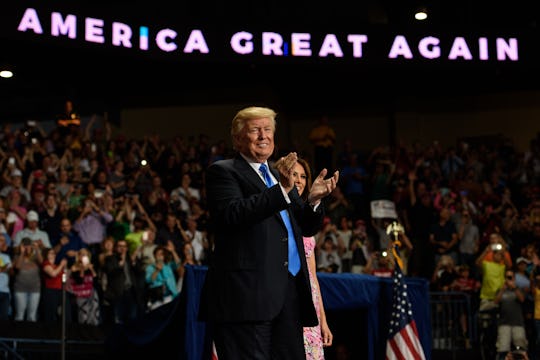 Justin Merriman/Getty Images News/Getty Images
How Many Trans People Currently Serve In The Military? Trump's Ban Affects A Lot Of Individuals
In what has become the norm, President Trump took to Twitter on Wednesday to make life-altering decisions for citizens of the United States. In a series of tweets, Trump wrote, "After consultation with my generals and military experts, please be advised that the United States Government will not accept or allow transgender individuals to serve in any capacity in the U.S. Military." So how many hardworking Americans will this affect? How many trans people currently serve in the military? You may be surprised.
Let's look back at June 30, 2016, an important day for transgender people who were serving — or wanting to serve — in the United States military. That fateful Thursday, Defense Secretary Ash Carter announced that transgender people would be allowed to openly serve in the military.
For contrast to Trump's comments today, according to a press release from the Department of Defense, at the time, Secretary Carter said, "This is the right thing to do for our people and for the force. We're talking about talented Americans who are serving with distinction or who want the opportunity to serve. We can't allow barriers unrelated to a person's qualifications prevent us from recruiting and retaining those who can best accomplish the mission."
As of this writing, the Department of Defense has not issued a press release regarding Trump's declarations made over Twitter.
And now, the new administration wants to take that away from more than 15,000 trans people — an estimation by the National Center for Transgender Equality — who make up our Armed Forces. Does this administration think transgendered individuals, who are otherwise qualified and willing to serve, are somehow not able to perform their military duties and proudly serve our country?
This is truly ironic, coming from not only a "draft dodger," but a man who said in a tweet on June 14, 2016, during his campaign, he would fight for the LGBTQ community while "Hillary brings in more people that will threaten your freedoms and beliefs."
Among his tweets today that support a clear violation of human rights — and goes against his previous "support" for LGBTQ individuals — Trump also said the military cannot be burdened with "the tremendous medical costs and disruption that transgender [sic] in the military would entail." But as we all have seen during his presidency so far, Trump isn't really one to keep promises he made to the American public during his campaign — as long as he is successfully undoing anything and everything progressive the Obama administration did. So what would make his support for LGBTQ any different than the other lies he has told the American people?
There is no evidence that the transgender community negatively affects the military in any way. And in response to Trump's statements, the ACLU tweeted a statement from Joshua Block, senior staff attorney for the ACLU LGBT & HIV Project: "Let us be clear. This has been studied extensively, and the consensus is clear: There are no cost or military readiness drawbacks associated with allowing trans people to fight for their country. The president is trying to score cheap political points on the backs of military personnel who have put their lives on the line for their country."
Block definitely nails it, and not only is this disrespectful to the LGBTQ community in general, but it's disrespectful to those who have put their lives on the line for Trump and our country as a whole — and that is not OK. Hopefully, this is just Trump spouting off on Twitter again, and this "idea" will have to go through Congress for a vote. But as we've seen in the past, this administration doesn't really go about things in a democratic way.