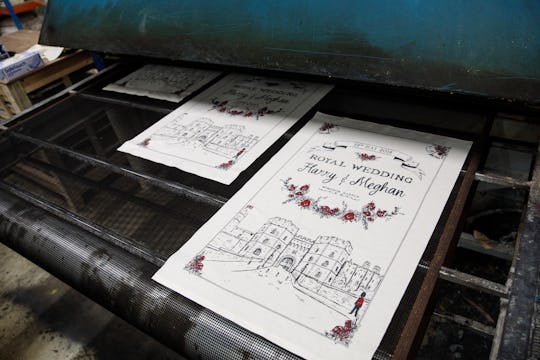 Jack Taylor/Getty Images News/Getty Images
Here's How Much It Would Cost If You Wanted To Go To The Royal Wedding
The royal wedding is only eight days away, and if you haven't received your ticket yet, I'm sorry to say, you're probably not invited. If you're royal wedding-obsessed and you're still itching to go (and you have a lot of disposable income and time off from work), I'm not surprised you're still Googling, "How much are tickets to the royal wedding?" Unfortunately, you may not like the answer. Because like most weddings, you don't have to pay to get in, but you do have to be invited by the couple.
If you haven't received your ticket yet (sorry to disappoint), there's no way to purchase them since tickets are free (to those who received them from the couple). But who exactly will be there for you to be extremely jealous of? Is it all the most elite of the elite, or is that not Markle and Prince Harry's style? The Cut reported that an official royal statement noted that Markle and Prince Harry had specifically asked to invite people "from a broad range of backgrounds and ages, including young people who have shown strong leadership, and those who have served their communities." How classy is that? Additionally, Elite Daily reported that Markle and Prince Harry extended invitations to 200 people "from a range of charities and organizations which Prince Harry and Ms. Markle have a close association with." Oh, and 100 kids from local schools.
According to The Sun, "School girl Amelia Thompson, who was caught up in the Manchester terror attack, had received one of the invites and is planning to take Sharon Goodman, whose granddaughter Olivia Campbell-Hardy died in the attack, with her." In all, there were 1,200 invitations sent to the public "from every corner of the United Kingdom," according to The Cut. A royal announcement stated that number is made up of the 100 kids, 200 people from charities, 610 Windsor Castle community members, and 530 members of "The Royal Households and Crown Estate." Including these special invitations, there will be 2,640 attendees at the event. But if you received one of the 1,200 public invitations, you'll be allowed to watch the couple arrive and then leave the chapel, not necessarily be inside during the ceremony. And these invitations aren't your typical wedding invitations. They're like special golden tickets — Charlie and the Chocolate Factory style. Imagine the surprise of the lucky individuals who merely opened their mail that day and got the invitation of a lifetime. I wonder if they did a song and dance like Charlie and his Grandpa?
People reported that the couple wanted to involve the public so their "wedding day could be shaped to allow members of the public to feel part of their celebrations, too." Didn't get a ticket but want to feel part of their celebrations? For the first time ever, the royal wedding will be coming to the big screen in select locations around the United States. PopSugar reported that on May 19, 200 U.S. theaters will be streaming the nuptials, beginning at 10:30 a.m., commercial-free, for the entire three hour ordeal. Check your local theater's website or search for your zip code on the Fathom Events website for a showing near you. Otherwise, check out ways to find royal wedding watch parties near you — I'm sure there will be some going on somewhere.
If you still want to try to show up just to be in the vicinity of the action, TIME did a breakdown of the cost. From New York City, the flight costs ranged from $490 to $704 roundtrip if you leave on Friday, May 18. And to get from London to Windsor, you'll have to take a train, and that will be $15. And of course, hotel costs for that weekend in Windsor are through the roof, with TIME reporting, "There's been a 1,000 percent year-over-year spike for hotel searches in Windsor, the town just outside London where Markle and Prince Harry will wed on May 19." Think $482 per night. Yowza.
So it looks like the best option if you don't have your golden ticket in hand is to catch it at a viewing party or at a local theater near you. Who needs the jet lag anyway?