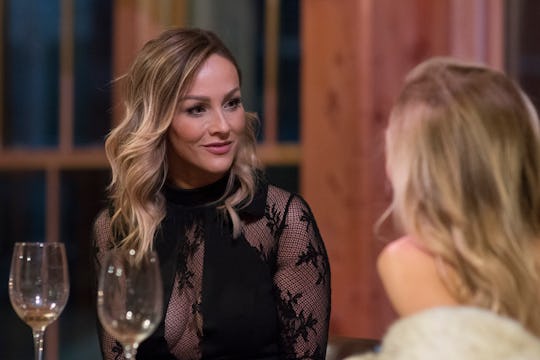 Lorenzo Bevilaqua/ABC
The Cost Of Clare's Engagement Ring Will Give You Serious 'Bachelor' Envy
Although fans didn't get to see Clare Crawley and Benoit Beauséjour-Savard finally hit their stride as a couple on The Bachelor Winter Games, they concluded their love story with a proposal on the World Tells All special. But aside from wondering about their future together, there are more important matters at hand, like how much did Clare's engagement ring cost? The Bachelor star got some serious bling when Benoit proposed to her and naturally, it was created by celebrity jeweler and Bachelor staple Neil Lane. But surprisingly, it may not have been as expensive as some of the rings of the franchise's past.
An up-close shot of the ring shows that it's an oval diamond surrounded by smaller ones with tiny diamonds lining the outside of the actual band, and on Neil Lane's website which showcases some of his rings, there's one that looks very similar to it. On the website for Kay Jewelers, which is one of the primary retailers for Lane's amazing rings, the same ring from his website is listed for $14,949 and is described as containing 2-⅛ carats of diamonds with white gold underneath. If it's the same ring Benoit proposed to Clare with, then she's definitely a lucky woman.
While almost $15,000 sounds like a lot for an engagement ring (because it definitely is by my standards), it's not all that expensive when compared to other engagement rings from the show's past, believe it or not. When Brad Womack returned to The Bachelor Season 18 to find love once more, he proposed to Emily Maynard with a $50,000 engagement ring that, at the time, had been the most expensive in the show's history. So naturally, from there, things got even more extravagant. Although Ben Higgins and Lauren Bushnell are no longer together after their engagement at the end of The Bachelor Season 20, he did propose to his former fiancée with a 4.25 carat $100,000 ring at the time. So while Clare's potentially nearly $15,000 ring is still costly, when compared to some others in the past, it may have been a fraction of the typical cost.
Regardless of how much Clare's engagement ring cost, though, you really couldn't have a season from The Bachelor franchise end without a proposal. Even though it came during the reunion show rather than the actual season finale, that almost made it even more special, since Clare and Benoit were able to bond away from the show and cameras in order to really build on something that was clearly there from the start.
There is the off chance that Benoit took it upon himself to purchase an engagement ring himself and use it to propose to Clare on-stage at the taping of the World Tells All special, but I'm more inclined to believe that once Chris Harrison caught a whiff of Benoit's plans, he made sure the formerly jilted contestant got the chance to pick out a Neil Lane ring for her. I mean, it's the Bachelor Nation way, right?
This season alone, both Clare and Benoit went through a lot to finally come together when the timing was right for both of them, and as the only engaged couple of the season, it's hard not to feel excited for what's to come for them. And whether or not Clare's ring really was close to $15,000 or even more, Benoit's surprise proposal was probably one of the sweetest moments of the season and he really set the bar high for any potential future seasons of the winter series.
Check out Romper's new video series, Romper's Doula Diaries:
Watch full episodes of Romper's Doula Diaries on Facebook Watch.