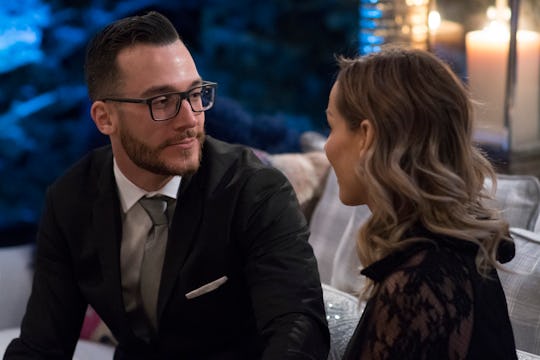 Lorenzo Bevilaqua/ABC
Benoit Made A Heart-Breaking Decision On 'The Bachelor Winter Games'
Shows in The Bachelor franchise are known for romances that are intense and fast, and the same goes for The Bachelor Winter Games, but Benoit Beausejour-Savard ended his time on the show early. As in, Episode 2 early. So why did Benoit leave The Bachelor Winter Games exactly? Twitter was in no way ready to say goodbye to him.
From the start, he was a genuinely sweet and kind-hearted person, but for Clare Crawley, the connection just wasn't there on both sides. Although she said herself that she's looking for someone with Benoit's qualities, she also knew that the chemistry wasn't there with him and she had to be true to herself. By the same token, Benoit had to be true to himself and leave, since he thought that it was best for him after things didn't work out with Clare.
After Benoit learned that Clare also had interest in Christian Rauch, things came to a head for the would-be couple. He sat down and talked to Clare about it and, despite their connection while kissing and cooking together, Clare told him that she realized their connection and chemistry really wasn't there on her side. Although it was heartbreaking to watch Benoit cry before our eyes, it was right for Clare to honor her own feelings and end things before they got too far. Seeing Benoit upset while saying goodbye to Clare tugged at the heartstrings of most viewers though and now we all basically want to date the former The Bachelorette Canada contestant.
Benoit probably could have stuck around to try and make another connection with someone else, but as he told Clare, there was nobody else for him. In the end, he felt it made the most sense for him to go home early. His sad goodbye has actually sparked something of a Twitter campaign for Benoit to become the next Bachelor, though, so maybe this isn't the last we've seen of him.
On the one hand, I don't know if Benoit could handle being the Bachelor because he doesn't seem all that keen on the idea of dating multiple people. But on the other hand, Benoit clearly has so much love to give, so can someone get this guy a handful of thornless roses to hand out?
During the different shows in The Bachelor franchise, including Bachelor in Paradise, it's not uncommon for contestants to go home early, before rose ceremonies and even cocktail parties, so it was only a matter of time before someone left The Bachelor Winter Games early. Although Benoit had strong and fast feelings for Clare, she didn't reciprocate those feelings and to her credit, she was completely honest with him about that. It might have hurt Benoit, but he needed to hear that before it was too late and it was because of those non-reciprocated feelings, Benoit decided to leave the show.
The Bachelor Winter Games are on for just four episodes total and filming the season spanned a few weeks from November to December in 2017, so all of these feelings are happening pretty quickly. But finding a potential significant other is always the name of the game when it comes to The Bachelor franchise. Who can blame Benoit for falling for Clare so quickly in such an atmosphere?
Despite having no romantic feelings for Benoit, saying goodbye to him was clearly difficult for Clare. But to be honest, it was hard for a lot fans too. Twitter wasn't ready to say goodbye to Benoit on The Bachelor Winter Games so we can only hope that if international Bachelor stars are invited to another show in the franchise, he'll be along for the ride once again.
Check out Romper's new video series, Romper's Doula Diaries:
Watch full episodes of Romper's Doula Diaries on Facebook Watch.