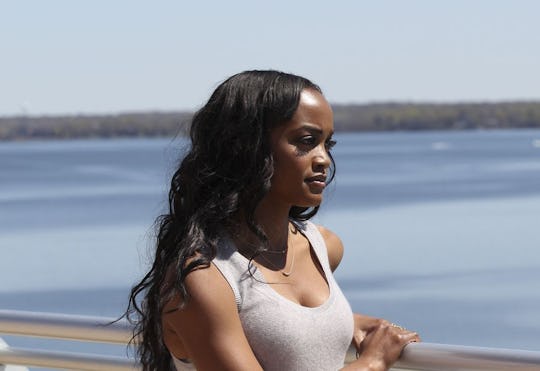 George Burns/ABC
Rachel's Engagement Ring On 'The Bachelorette' Cost A Pretty Penny
If Bachelor Nation couples take nothing else away from going through the experience of being on The Bachelor or The Bachelorette, then maybe they can just appreciate the gift of amazing engagement rings that are of no cost to them or their partners. For years, Neil Lane has been the prime source for the franchise's engagement rings and that doesn't seem to be changing anytime soon. So, how much was Rachel's engagement ring on The Bachelorette?
ABC spared no expense for true love and for Season 13, it was the same deal, even though it's not confirmed if Neil Lane gifts the show with his rings for the publicity or if ABC busts out some hefty petty cash for them each season. Despite Rachel preferring a plain wedding band over a big old rock, she described another version of her dream ring and Bryan was able to pick one out from Lane's selection, as per usual. And, like always, it didn't come cheap.
According to E! News, Rachel's three-carat pear-shaped diamond ring cost more than $100,000, making it one of the more expensive engagement rings in Bachelor Nation history.
Luckily, the suitors are never expected to foot the bill for the engagement rings, which is probably a good thing since in the past, they've cost a pretty penny. During Season 17 of The Bachelor, Sean Lowe gave Catherine Giudici an engagement ring that was more than three carats and retails for around $75,000. Season 19's Chris Soules proposed to Whitney Bischoff with a 4-carat Neil Lane ring that reportedly cost $92,000.
Although The Bachelorette engagement rings are pretty much the cream of the crop, they're also, for all intents and purposes, on loan to contestants. For all rings in Bachelor Nation, unless purchased by one of the contestants personally and not received through the Neil Lane arrangement, it's in the contestants' contracts that they must remain in their relationship for two years or they forfeit the ring back to ABC. If they're lucky enough to last as a couple outside of The Bachelorette and Bachelor bubble, then they get to keep their Neil Lane bling and live happily ever after in wedded Bachelor Nation bliss.
Even though some of The Bachelorette contestants this season were doctors and lawyers, who's going to turn down the allure of a free and clear Neil Lane diamond, right? Rachel's engagement ring on The Bachelorette is blingy for sure, but without being flashy or too over the top and I'd expect nothing less from someone who is already a Bachelorette favorite for so many fans. So at least in that respect, Bryan's off to a good start as her future husband.