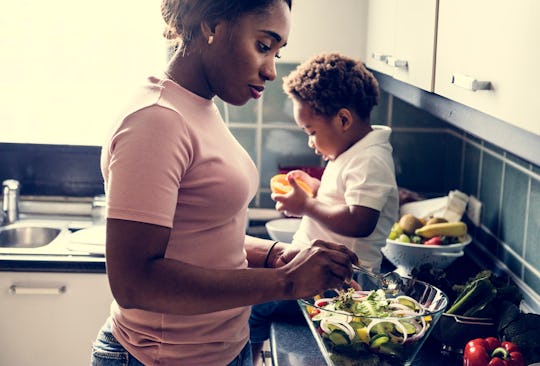 Shutterstock
11 Jobs Stay-At-Home-Moms Do & How Much Money They Should Make Doing Them
Imagine if, at the end of every day, stay-at-home parents sent an invoice detailing the services they completed... and were promptly paid for those services. Consider how much a stay-at-home mom is worth, in just monetary value alone, and then imagine if the U.S. Department of Labor, working closely with the Wage and Hour Division or the Office of Workers' Compensation Programs, paid us moms outright.
This thought experiment is one that crosses my mind every so often. It's particularly prevelant in the moments when I'm reminded that in some homes, the tasks I'm completing are done by hired help. In fact, before I became a mom, I worked as a nanny for years in affluent neighborhoods in Brooklyn, New York. The families I worked with often hired housekeepers, gardeners, personal chefs, and plumbers in addition to me, their nanny. I saw, firsthand, how people are compensated for the very same services I provide my family as a stay-at-home mom.
So while moms are often divided into two categories, "working moms" and stay-at-home moms, it's important to make one thing clear: stay-at-home moms work. A lot. All the time. They're just not paid for their labor the way that moms who work outside the home are. Sure, sometimes there are weeks where laundry doesn't get done, dishes pile up in the sink, and meal-prepping takes a backseat to childcare or other household duties, but acknowleding how much we would be paid for our labor helps us all appreciate the full breadth and depth of our careers as parents.