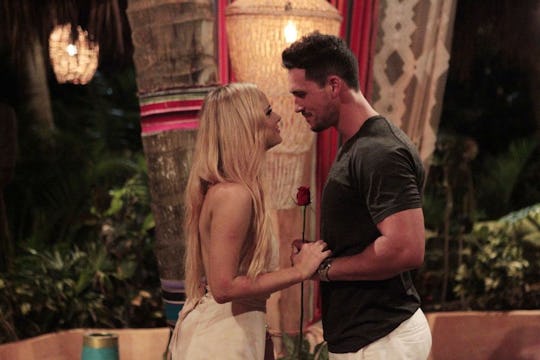 ABC/Rick Rowell
How Much Is Amanda's Ring On 'Bachelor In Paradise'? It's Expensive To Fall In Love
It was the great Jennifer lopez who once sand about love not costing a thing, but if Bachelor in Paradise has taught us anything, other than the fact that falling in love in the span of six weeks is totally possible, it's that keeping that love can be super expensive. The ring, at least, costs a lot more than nothing, but how much was Amanda's ring on Bachelor in Paradise? Even if the Neil Lane rings weren't given to the stars free of charge, something tells me that Josh would have spared little expense to find a ring he felt best suited the woman he was obviously crazy for from the start.
In the past, the engagement rings of Bachelor in Paradise, The Bachelor, and The Bachelorette have been as expensive as $90,000. For an engagement ring, which doesn't even include the wedding band that comes later. When you literally have an unlimited budget, though, such astronomical price tags are to be expected and Amanda's ring on Bachelor in Paradise is no exception. But when you don't have to pay for the ring yourself and you get to pick it based solely on its appearance and how much your intended will like it, it's kind of a go big or go home type of scenario.
Josh's proposal to Amanda on Bachelor in Paradise was pretty much what we expected, with some cliché phrases on Josh's part and Amanda swooning at each one, as well as Josh bragging about the engagement ring he slipped onto her finger. After he marveled at "so many diamonds" on her ring, the couple proceeded to tell each other over and over how much they loved each other, while Josh sweated through what was probably his last good shirt in paradise. But was it the heat and humidity or his nerves? Probably a little of both, to be honest.
While the Neil Lane engagement rings given away in Bachelor Nation have ranged from super expensive to inconceivably expensive, the most recent Bachelorette, JoJo Fletcher, was given one of the more expensive ones to date. The 3.75-carat engagement ring reportedly cost around $100,000, so Amanda's engagement ring was most likely around the same price. Especially because Josh doesn't seem like the kind of guy to choose anything that seems less than worthy of the love of his life.
While it would be nice to say that the cost of Amanda's ring on Bachelor in Paradise doesn't really matter, let's be real. The cost totally matters, because what Bachelor Nation star doesn't want to end up having the biggest and most expensive rock on their finger? Even though Kaitlyn Bristowe of Season 11 of The Bachelorette had a less expensive ring at around $70,000, that's still a pretty penny. And Josh doesn't seem like the type to be frugal, even when the ring is free.