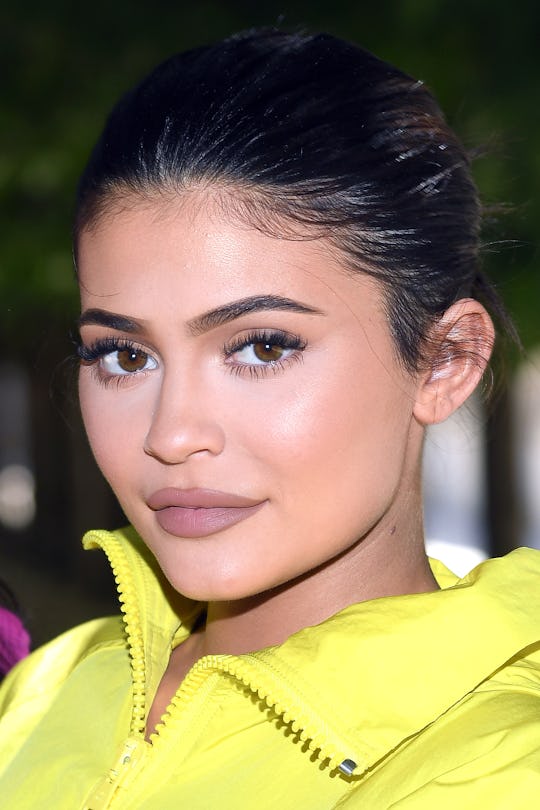 Pascal Le Segretain/Getty Images Entertainment/Getty Images
Kylie Jenner Has Some *Stylish* Baby Gear For Stormi... But Just How Much Is Her Stroller?
With Kylie Jenner posting cute pics and information about baby Stormi seemingly every hour nowadays, the infatuated new mom has lots of beautiful baby gear to ogle on social media, such as her baby girl's wheels. But, just how much is Kylie Jenner's stroller? You know, the one that had designer logos all over it and got the internet talking in the spring? Well, be prepared to fork over multiple Benjamins if you want one yourself...
After all, Jenner is a billionaire in the making, according to Forbes, so it shouldn't be a surprise that adorable little Stormi, Jenner's 7-month-old daughter with boyfriend Travis Scott, has some impressively expensive tyke trinkets.
Getting glimpses of Jenner's baby gear started shortly after Stormi was born and the new mom was a little hesitant about showing her baby's face, according to People. For a while, she was only posting shots where you couldn't see Stormi as clearly, sometimes due to her being in a stroller or carrier or sometimes in someone's arms.
In April, when Jenner posted a car seat shot, the "Nuna" logo was clearly visible on her stroller's handle. According to People, Stormi uses the lightweight PIPA Lite LX car seat by Nuna, which retails for $400. Expensive to be sure, but not a total shocker. She posted a photo, seemingly of the same car seat over the weekend.
Then came the pic of Jenner toting Stormi, snug as a bug, in a Gucci baby carrier, at the joint cousin birthday party hosted by Stormi's aunties, Kim and Kourtney, as People reported. The shot generated attention for the fact that Stormi's carrier was of the Gucci variety, and cost $820.
Which brings us to the stroller, not just any carriage but the stroller. In April, back when Stormi was still super little, Jenner posted a picture to Instagram of herself wheeling her daughter in a designer stroller that was covered with the retro version of the Fendi logo, on a fancy-looking street that must have been in her neighborhood. Jenner accessorized herself in Fendi, too. "Stormi strolls 🤑," Jenner captioned the post, followed by the money mouth face emoji.
Of course, people immediately had to know everything about the Italian designer's logo stroller, with Harper's Bazaar posting that a way-not-as-elegant Fendi umbrella stroller was pricing out at just $1,600. But as for the actual, pram-type carriage Jenner has? That's a mere $12,500 model, according to Teen Vogue. The actual model is the FENDI FF Logo Shearling Baby Pram, a made-to-order item, according to style site The Blast.
Now, before you get too sticker-shocked, remember not to be deluded that Jenner is your typical twenty-something. She's an incredibly successful businesswoman with her Kylie Cosmetics line, as Forbes detailed, and she was already a KarJenner before that, with TV appearances and sponsorships on her resume, according to Vox. So look, she's not your average Joe, and shots on her Instagram prove that. There are snaps of her getting on a private jet, attending the Met Gala, enjoying new luxury cars, and way more.
Labels aside, Jenner just seems to love her little one. "That child never stops," Kris Jenner told People about watching Kylie blossom as a parent, and career woman. "She got right back in the saddle. And I love that about her. She's really so impressive...She's so dedicated to her baby."
So whatever Jenner chooses to show her fans next about her life at home with Stormi, don't be so surprised if there are designer brands and hefty price tags are involved.