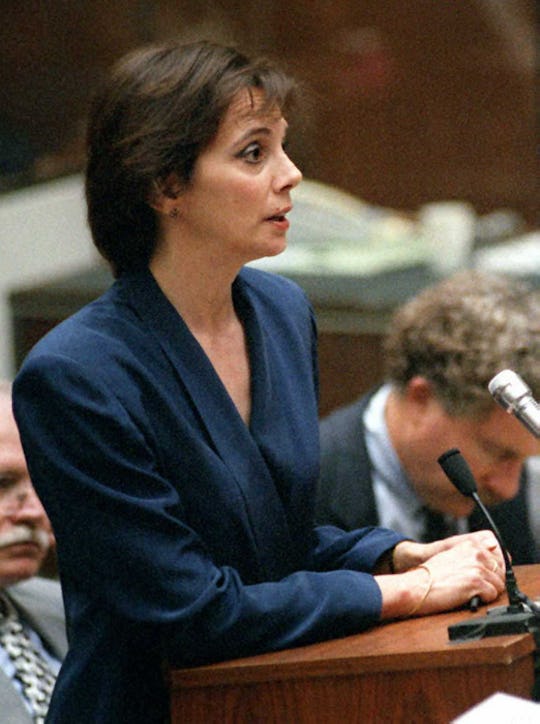 POOL/AFP/Getty Images
How Much Was Marcia Clark's Book Deal After The O.J. Simpson Trial? It Was One Of The Largest In History
As seen on FX's American Crime Story, big players of the O.J. trial typically cashed in on their involvement — usually in the form of a book deal. Prosecutor Marcia Clark was no exception. According to Tuesday night's finale, the book deal was one of the biggest in history (especially for the time). This comes as no surprise, as Clark was both a driving force in the case and the subject of controversy in the media. With all the buzz surrounding her, how much did Marcia Clark's book deal go for?
The New York Times reported on the deal shortly after it closed. Clark signed a deal with Viking Books after a bidding war with other publishers in late 1995. Viking paid her $4.2 million for the rights to her story. According to the Times, this was "the highest price yet for one of the scores of trial-related books and one of the largest sums ever paid for a nonfiction book."
Clark is one of many involved with the case to pen a book. Some were also closely involved such as defender Johnnie Cochran, who wrote Journey to Justice. Others were tangentially related, and accused of exploiting the people involved by writing about them. A prime example is friend of Nicole Brown Simpson, Faye Resnick. Her book Nicole Brown Simpson: The Private Diary of a Life Interrupted was published shortly after her death with uproar from Simpson's family and other friends.
Viking Books, however, only wanted to publish Clark's narrative. "This was the only book related to the trial that even remotely interested us," said Pamela Dorman, Viking's executive editor at the time. "Marcia is the person who emerged as the real winner." Other book deals were not nearly as extravagant as the one Clark received. The Times reported that Christopher Darden, another member of the prosecution, received a $1.3 million deal from HarperCollins. Alan Dershowitz, a member of the defense, received six figures from Simon & Schuster.
Since then, Clark's made a career writing novels as opposed to non-fiction. There are currently nine books and short stories in Clark's Amazon collection. In an interview with Vogue, she discussed her latest series. "My new series starts with Blood Defense, and the lead is Samantha Brinkman, a criminal defense lawyer who has a kind of twisted view of justice and a very troubled past."
Clark says that she drew inspiration from her own life: "I have to say that I did draw on life experience. The cases I've handled on both sides of the counsel table are interwoven into all of these stories." Given her part in the "trial of the century," as well as many other cases, it's easy to see how.