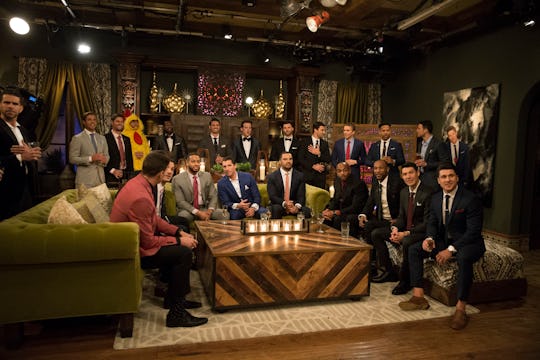 Paul Hebert/ABC
The Ages Of 'The Bachelorette' Contestants Really Shouldn't Matter
Arie Luyendyk Jr.'s season of The Bachelor got plenty of flack for having contestants that were decidedly too young for the 36-year-old race car driver. But how old are The Bachelorette contestants this season? We did the math and it would seem that, competed to past seasons of The Bachelor, these men are much more grown up, age-wise, than some of the younger female contestants chosen for the past Bachelors. I can't speak for our resident "banjoist" or underwear-clad male model, but there does seem to be more established and mature men that were picked for Becca Kufrin's season of The Bachelorette.
Honestly, though, she deserves nothing but the best after enduring the televised heartbreak at the end of The Bachelor season 22. That being said, Becca's contestants on The Bachelorette this season range is age from 25 to 31. There are just two men who are 25, five 26-year-olds, and the rest of the contestants are in their late 20's or very early 30's. Compared to past seasons, that age bracket isn't too out of the ordinary, and in terms of Becca's own age, which is 28, that would mean that her youngest contestant is only three years younger than her.
Compared to Arie's season of The Bachelor, with Bekah Martinez being 22 years old and 14 years younger than him, that's quite a difference. Of course an older age doesn't necessarily equate to a higher level of maturity, but age has played a big role in past Bachelors and Bachelorettes making their decisions.
During Rachel Lindsay's season of The Bachelorette, she had contestants who were as young as 26 and as old as 37. Granted, she was 32 years old at the time of filming, so her contestants' ages and places in life had to mesh well with hers, but age became an issue with one of her contestants, Dean Unglert, who became a fast fan favorite. Dean was just 26 years old, but made it as far as hometown dates, where he was able to show his maturity to Rachel and momentarily cause her to stop worrying about their age difference. In the end, it didn't work out between then, but their age difference was a running concern for her throughout season 13 of The Bachelorette.
Like I said before, Arie's season of The Bachelor featured one of the youngest contestants to date, 22-year-old Bekah, who was a frontrunner up until she revealed her actual age to him. From that point on, his concerns about that age gap played a big role in his decisions regarding their future and eventually, she was cut. Before Arie's season, Nick Viall's featured multiple 23 year old contestants despite the Bachelor himself being 36 years old at the time and while 25-year-old Raven Gates made it to the final two, Nick ultimately sent her home.
When it comes down to it, age probably shouldn't be as big of an issue as it is, but clearly the problem with the franchise lies with The Bachelor typically featuring much younger female contestants compared to the suitor, while The Bachelorette usually — though not always — keeps the ages in a decent range from the suitorette's age. And Bekah isn't the first young female contestant to be chosen for The Bachelor.
For Ben Higgins' season of The Bachelor, there were the 22-year-old twins, Haley and Emily Ferguson who competed for roses. And before that, for Chris Soules' season, 21-year-old Mackenzie Deonigi was one of the 33-year-old Bachelor's contestants. On the flipside, there haven't been any male contestants under the age of 23 in the franchise's history, and even then, male contestants ages 23 and 24 have been sparse. Maybe this has something to do with the Bachelorettes being older than that themselves, but if the Bachelors are to have much younger female contestants, you'd think the same rule would apply for seasons of The Bachelorette with male contestants.
With Becca's season, her Bachelorette contestants are all just a couple of years older or younger than her, so thankfully, there should be no real issue of age this season. Let's just hope that all of the other drama doesn't get in the way of Becca being able to find the right guy for her.