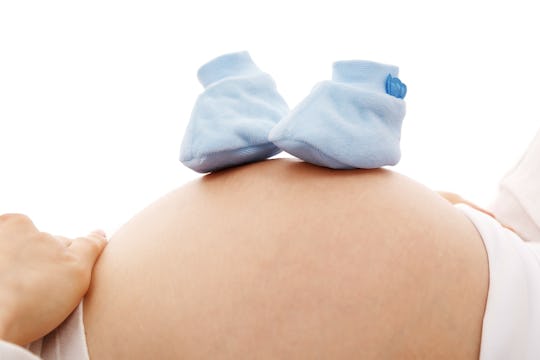 How Old Is Chontel Duncan? The Pregnant 'Fit-Mom's Photo Started Lots Of Conversation
This time last year, Chontel Duncan was relatively unknown (at least stateside). Sure, the Muay Thai fighter was known within fitness circles, and the HIIT gym owner, and trainer, had a following in Australia — where she was once a Miss Universe contestant — but in America, and most countries, Duncan was just another name. A common, everyday sorta name. However, all that changed when Duncan posted a photo of herself and her client and friend, Nat, comparing baby bellies on Instagram last November. Because, while the photo showed the beauty of pregnancy — i.e. two friends caring together, and standing together — it also garnered a ton of negative feedback: Chontel was too fit. She was too small. She was endangering her child — or these are the critiques that some people made. But others immediately wanted to know more about Duncan: who the heck is this fit mama? What does she do? And how old is Chontel Duncan? (I mean, inquiring minds wanted to know!)
Well, Duncan is a trainer, by profession. She is also a fitness model, a fighter, and will soon be a mom. Duncan eats well, works hard, and is more disciplined than my big toe, at least according to her bio on Simply Shredded, but that's what happens when your work and lifestyle become one in the same. As for her age, it appears the "fit-mom" Duncan is 27, according to People.
However, her age and job are inconsequential, at least in the grand scheme of things: what matters are Duncan's words. What matters is Duncan's message.
I was surprised with a cute visit today from a friend Nat who is also expecting 💕Just being able to see someone in the flesh, rub her tummy, hear how incredible her journey has been so far, how healthy baby is & all the fun talk about kicks, food, names etc was beautiful.This is Nat's 3rd pregnancy so she had a lot of great advice to share....we are 4 weeks apart...Nat's due start of March & I'm due end of March.
Each women carries differently and this most certainly doesn't mean one is doing something wrong or not healthy etc. We both have healthy growing babies & we both have had incredible pregnancies so far, feeling amazing & full of energy.
As a former — yet no less proud — skinny mom-to-be, I loved this post. Duncan is right: every woman carries differently, every body carries differently, and every pregnancy is different. But the hate and anger she received was absurd. It was ludicrous. It was uncalled for.
The thing is, I empathize with Duncan. Don't get me wrong, I can't totally relate: I didn't have abs like hers when carrying my wee one (and, newsflash, I probably never will), but I did run while pregnant — until my 38th week. I did eat well while pregnant, and I carried small. Because healthy pregnancies aren't defined by your waistband or numbers on a scale — they are determined by your doctors, your body, and your unique lifestyle.