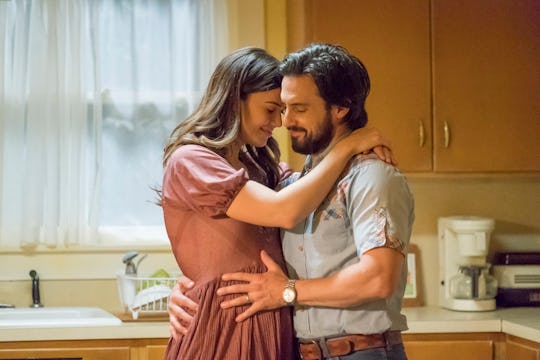 Ron Batzdorff/NBC
An Older Version Of Jack Pearson Will Appear In The 'This Is Us' Season 2 Finale, So Get Those Tissues Ready
For some women, their wedding day just wouldn't be complete unless their father could walk them down the aisle. As we all know, that's impossible for Kate on This Is Us, but in the Season 2 finale, fans will get to see what could have been in a wedding scene with Jack alive and well in the present day. I know, I'm already crying too. But how old is Jack in the This Is Us Season 2 finale? If he was still alive today, he would have lived a very long and happy life with Rebecca and their kids. But even though he did die, the finale will show fans how things might have turned out if he hadn't, so make sure you have plenty of tissues on hand.
It doesn't look like the entire episode will be about Jack being "alive" in present day, but from the photos released, it's clear that Jack is shown at a wedding, which makes sense considering the main focus of the finale will be centered around Kate and Toby's wedding. Since in real life, Milo Ventimiglia is 40, a lot of work had to be done to fast forward the clock on his age, especially as his character was over 40 when he died. But if Jack was still alive, he'd be pushing 74, which is six years older than present day Rebecca, so the This Is Us makeup artists had their work cut out for them to age Jack so much, even though, let's face it, he'll always look like the same loving husband and father regardless of his age.
It's pretty much a given that seeing Jack alive on the This Is Us Season 2 finale is going to be a heartbreaking moment for fans everywhere, but I also don't think they could have done Kate's wedding without at least some sort of callback to the parent with whom she had the closest relationship. She might have Randall and Kevin giving her away at her actual wedding, with Jack's "what could have been" appearance in more of a dream sequence than anything, but Jack has always been an important part of the family's history, so the writers had to fit him in somehow.
Executive producer Isaac Aptaker told Variety that the whole point of having Kate's wedding in the finale episode is to allow the characters to look forward rather than continue to grieve, as most have done throughout the season for various reasons. "It's about how a family can experience an incredibly, incredibly tragic loss and still fight through it and move forward and find happiness and joy," he said. He also noted that seeing Jack alive in present day as an older man will be "so powerful and poignant and haunting and tragic all at once" for fans, but I don't think anyone needs to tell that to the viewers.
If Jack never died from cardiac arrest after going back into the family home to save the family dog, Ventimiglia thinks he would still be doing all of the things the younger Jack did and then some. "I think he'd be much like the younger Jack," he told HuffPost in a recent interview. "I think he'd be happy to be around his kids, happy to be around his wife. He'd probably be building homes somewhere."
As for the makeup that transformed the actor into an elderly grandfather figure for the This Is Us Season 2 finale, Ventimiglia noted in the interview that it took the makeup department "about three hours" to finish the look. But judging by the promo for the finale episode, he definitely looks the part, especially when compared to the older versions of both Rebecca and Miguel, who have been shown in present day quite a bit.
Even though it's going to be hard to see Jack alive after witnessing his tragic death earlier in the season, the hope is that it will help fans deal with the loss they felt alongside the Pearson family. Although it's unclear yet if present day Jack will share any scenes with his adult children, particularly Kate, it would make sense for at least Kate and Jack to have time together in this dream-like "what if" scenario. So far in the series, Ventimiglia has had a scene with just one of the adults who plays Jack's adult children, Sterling K. Brown (Randall), but still none with Chrissy Metz (Kate), so I'd say this is the perfect opportunity.
Check out Romper's new video series, Romper's Doula Diaries:
Watch full episodes of Romper's Doula Diaries on Facebook Watch.