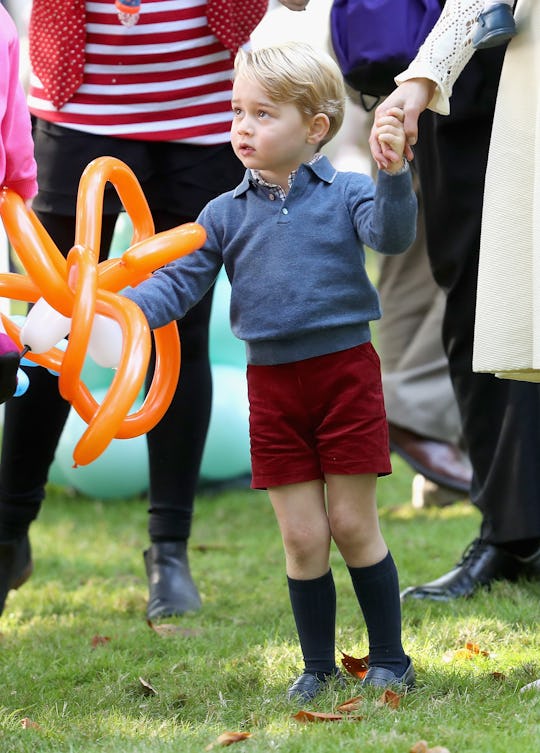 Chris Jackson/Getty Images Entertainment/Getty Images
How Prince George Might Celebrate His 5th Birthday, Because It's Right Around The Corner
Prince George turns 5 years old on Sunday, and I'm already depressed. I am simply not ready for those adorable royal kids to get any older and I feel like little George Cambridge is at just about the best age right now. He's old enough to understand reason, he's presumably toilet trained and able to communicate. Also, he is clearly adorable. I wish we could stop him right now, but we can't. So let's instead focus on how Prince George will celebrate his fifth birthday, because I bet it's going to be a real royal rager.
Prince George's parents, the Duke and Duchess of Cambridge, will definitely pull out all the stops to make sure their oldest son has a smashing birthday celebration. They strike me as the type of parents who are down with letting their little prince get dirty and silly at his party, especially when there's no pesky paparazzi around to take pictures and ruin everything.
I suppose the type of birthday party Prince George will be able to have also depends on the guest list; if his great-grandmother, Queen Elizabeth II, is in attendance I can't imagine he'll get a bouncy castle or anything. Although since he already spends a whole lot of time in a non-bouncy castle, it probably wouldn't be a big deal for him anyhow.
If Prince George's fourth birthday party is any indication, he and his 3-year-old sister Princess Charlotte should expect to have a great time with their friends. According to The Mirror, Prince George got home from an international tour of Germany and Poland in time to celebrate his birthday in style. The theme of the party was reportedly dinosaurs because the 4-year-old prince was all about dinosaurs; a royal source told New Idea that Kate Middleton made sure her son's party had dinosaurs everywhere at the family home in Norfolk:
So doing a dinosaur party was an easy win for Kate. And while it started off as a small party, it's now grown to be pretty big and over-the-top. As well as dinosaur decorations and a dinosaur cake, she's also organised to have moving toy dinosaurs roaming around the palace grounds. It will look just like the set of Jurassic Park!
Prior to Prince George's fourth birthday his parents reportedly kept things pretty low-key, according to Vanity Fair. They tend to celebrate his birthday with close family and friends at Amner Hall in Norfolk, away from the pomp and circumstance of Buckingham Palace. People like Prince George's grandparents Carole and Michael Middleton, his aunt Pippa Middleton (who is now pregnant with her first child) and uncle James Middleton. The Queen and Prince Phillip were also in attendance, according to Vanity Fair, which in my opinion does not bode well for a lively party with balloons and screaming children.
But who knows, I could be wrong.
Prince George's fifth birthday celebrations should look a little different now that he's going to school at Thomas's Battersea School. He has likely made some school friends, who I can only assume he refers to as his "mates" or "chums," which could mean this party will be more about kids than grown-ups. And let's not forget his cousin Savannah Phillips, the daughter of Zara and Mark Phillips, who has already made a real impression on the prince. Like that time she covered his mouth in front of the whole world to stop him from singing. You just know she would be a fabulous party guest.
This year might not be the time for Prince George to go full kid party, unfortunately. It looks like the jet-setting kid could be enjoying a little Caribbean flavor with his family on the island of Mustique, as they're rumored to be heading there for summer holidays, according to The Sun.
Lucky kid.