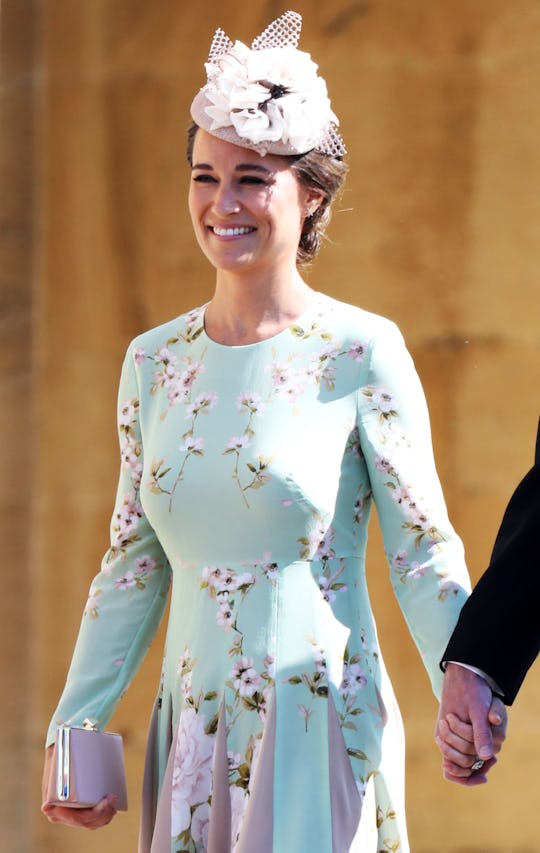 Chris Jackson/Getty Images Entertainment/Getty Images
Pippa Middleton *Finally* Confirms Her Pregnancy With Baby No. 1!
The world is about to welcome another royal baby! After months of rumors, Pippa Middleton has finally confirmed that she is pregnant with her first baby. The sister of Catherine, Duchess of Cambridge opened up about her pregnancy in her column for the U.K. supermarket monthly magazine Waitrose Kitchen, as People reported. Rumors of Pippa's pregnancy first broke on April 22, but they had not been explicitly confirmed by Pippa until now.
During all three of her sister Kate's pregnancies, the royal made headlines for suffering from Hyperemesis Gravidarum (HG), which is a very severe form of morning sickness. Luckily for Pippa, 34, she did not suffer from the same fate as her older sister. "I was lucky to pass the 12 week scan without suffering from morning sickness. That meant I was able to carry on as normal," Pippa wrote in her column, as Hello! reported.
Kate unfortunately had to cancel royal appearances and spend time on bed rest during her pregnancies, so it's great that Pippa has been able to keep up her usual schedule throughout her first trimester. That being said, she did have to make some lifestyle changes. "When I learned the happy news that I was pregnant I realised I needed to adjust my 4 to 5-day-a-week routine," she wrote in her column, as Hello! reported.
In her column for Waitrose Kitchen, Pippa further commented on how she has incorporated exercise into her pregnancy thus far, ensuring fans that she is being safe. She wrote, according to People:
I've noticed my body change but through exercise I feel it's being strengthened ... I'm fanatical about sport and have looked at loads of books and websites on exercise during pregnancy but have been disappointed by the limited technical information what you can and can't do.
Endless questions regarding exercise flooded her mind during the beginning of her pregnancy. "This being my first pregnancy, I had so many questions I felt were still unanswered," she wrote, according to People. "... I wanted to know things like, would I strain if I served in tennis, are strokes of swimming safe, can I still do a normal yoga class if I avoided certain positions? Could I still work my abs?"
Additionally, she has noticed positive changes in her body, which she believes are a result of exercising. "I've noticed my body change and weight increase, but through effective exercise and sports I feel that it's been strengthened to support a healthy pregnancy, birth and recovery," she added, according to People.
Additionally, Pippa wrote that she did not tell her trainer she was pregnant until the "riskier months" (by which she likely means her first trimester) had passed. Exercise during pregnant is totally safe — but most experts recommend consulting with your doctor about your workout regimen, according to the American Congress of Obstetricians and Gynecologists (ACOG).
Not only that, but exercising during pregnancy is actually encouraged, as long as a physician clears it. For example, prenatal yoga can have a lot of benefits for expectant mothers, including stress relief, including better sleep, strength and flexibility, and decreased lower back pain. Based on Pippa's column, it's clear that she has experienced many of the positive benefits of exercising while pregnant.
Pippa and her husband, financier James Matthews, 42, got married on May 20, 2017, as Town & Country reported. This will be the couple's first child — and he or she will have plenty of cousins close in age to grow up with. Kate and William, Duke of Cambridge's three children (Prince George, Princess Charlotte, and Prince Louis) are all 5 and under, so you can bet plenty of royal playdates are in store for the growing family.