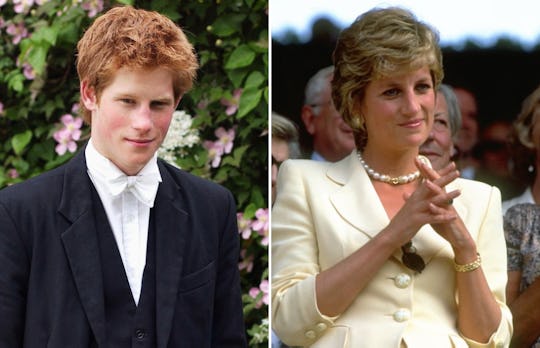 Getty Images/Getty Images Entertainment/Getty Images/ Clive Brunskill/Getty Images Sport/Getty Images
Prince Harry Takes After Princess Diana In So Many Endearing & Meaningful Ways
Prince William and Prince Harry tragically lost their mother, the universally-adored Princess Diana of Wales, when they were just 15 and 12 years old, respectively. Now, 21 years later, royal experts and royal insiders are still fascinated by the ways in which the boys take after their late mom. Specifically, one such insider has noticed how Prince Harry takes after Princess Diana, in more ways than one.
Earlier this year, a new documentary called Princess Diana: The Quiet Revolution was released, as The Sun reported. Paul Burrell, who served as Princess Diana's royal butler many years ago, provided commentary for the film — some of which focused on how the two princes resemble their parents.
"William, although he looks like his mother, he is more like his father," Burrell says in the documentary, according to The Sun. "He's studious, very careful, he's very respectful, he's duty bound. Harry on the other hand, is a hybrid of the Spencer's red hair and the Windsors but he has his mother's naughty streak." LOL.
"[Diana] loved to have fun, she loved to giggle, she loved to play practical jokes," Burrell continued, according to The Sun. "Harry is the fun guy, Harry was always the boy that would take apart the television set, the video recorder, he would have in bits, and would want them to put it back together again."
Even though Burrell thinks Prince William looks more like Diana and that Prince Harry looks more like their dad, Prince Charles of Wales, it makes sense that they take after the opposite parent, personality-wise. Prince Charles, 69, is next in line to the throne, and he has spent most of his life preparing to become king. After him, Prince William is next in line, so it makes sense that he exhibits his father's well-mannered qualities.
On the other hand, even though Prince Harry also grew up in the royal spotlight, the chances of him becoming the sovereign have actually gotten lower over the course of his life. (Prince William and Catherine, Duchess of Sussex's three kids all cut Prince Harry in line the moment they were born.) That being said, it makes sense that he displays some of his mom's "naughtier" qualities, as Burrell called them, since his position as a royal is not quite as important as his brother's.
For example, Prince Harry's youth was filled with a few more minor scandals than that of Prince William's. Back in 2012, Prince Harry made headlines for a wild — and naked — weekend in Las Vegas, as E! News reported at the time. But now that he's happily married to Meghan Markle, Duchess of Sussex, there's no need to get into any of the womanizing gossip of the past, right? (OK, maybe later...)
Not to mention, Prince Harry has dedicated himself to a number of causes that his mother was passionate about. For example, Princess Diana did a ton of groundbreaking work for the HIV and AIDS community, according to the BBC, and Prince Harry has continued her legacy in many ways. One of which is through a charity called Sentebale, which he founded along with Prince Seeiso of Lesotho, according Town & Country. Sentebale supports the mental health of young people with HIV in Lesotho and Botswana, its website notes.
In 2017, Prince Harry opened up about continuing his mother's charity efforts on the Mad World podcast, according to TIME. He reportedly said:
What my mother believed in [is] the fact that you are in a position of privilege or a position of responsibility and if you can put your name to something that you genuinely believe in…then you can smash any stigma you want.
If Princess Diana could see Prince Harry today, she would undoubtedly be proud to see him devoting his time to issues she cared so much about.