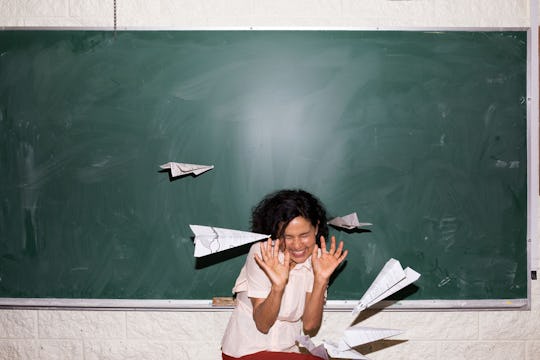 Rob And Julia Campbell/Stocksy
How Do Teachers Feel About April Fool's Day? The Answer Often Involves Brownies
When you think of school, it's likely that "fun" isn't the first word that pops immediately to mind. No, you probably associate it with words like "homework" and "tests" and "behave, or you'll get sent to the principal's office." But there's usually an exception to every rule, and you might be surprised to learn that many teachers love April Fool's Day precisely because it gives both them and their students a chance to break the rules and have a good time.
School is stressful for everyone involved. Kids spend hours studying, sit through painful standardized tests, and create countless projects involving trifold poster boards and glitter glue. Teachers stay up late planning lessons, take up side hustles to pay the bills, and develop ulcers during classroom observation days. Is it any wonder they jump at the chance to let off a little steam during a day historically devoted to silly pranks?
As a preschool teacher, I consider April Fool's Day to be everyone else's version of my average working day. But my kids have come home over the years with hilarious stories of teacher and student pranks. My son once memorably enlisted a teacher's help with what may be the most brilliant April Fool's school joke of all time: using a school communication app to send his classmates a "homework" link that turned out to be a Rickroll. I don't know who laughed harder: my son or his teacher.
When I asked a number of teachers to give their opinions of April 1, the answers were both fun and fascinating. While some of my fellow educators aren't into April fooling, others take full advantage of the day, and still others have been the victim of their own students. The answers I got tended to fall into one of several categories. See what you think, and don't be surprised if your child comes home from school on April 1 with tales of how their class turned topsy-turvy for a day.