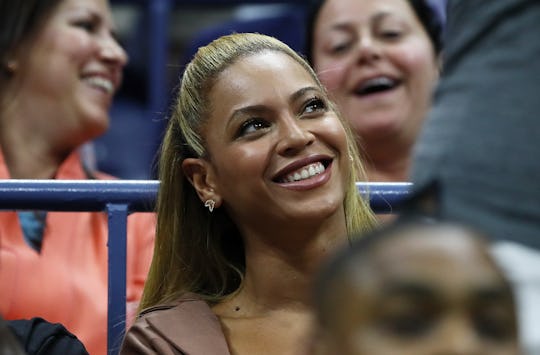 Al Bello/Getty Images Sport/Getty Images
All The Ways You Can Buy Beyonce's Car Seat
If you're a mom that also happens to be a huge Beyoncé fan, there's a good chance you've been paying close attention to what Beyoncé has bought for her newborn twins, Rumi and Sir Carter. One of those items is the Nuna PIPA car seat, a product Rumi and Sir were spotted in last week to great fanfare. Naturally, the Beyhive wants to know everything and anything about this coveted purchase, including how to buy Beyoncé's car seat.
Before I explain how to buy Beyoncé's car seat, I think it's important to first know how much this bad boy costs. Whenever I'm thinking about buying a product, I like to know all of the details upfront to avoid any disappointment courtesy of my bank account. That being said, the Nuna PIPA retails for a cool $299.95, at some retailers, which is a small drop in the bucket if you're Beyoncé. According to Forbes, Beyonce has an impressive net worth of $350 million — it's safe to say that Beyoncé and JAY-Z can spring for two Nuna PIPAs.
If you can fit the Nuna PIPA into your budget, you should know why this car seat is superior to other competitors before you make the final decision to buy. Although the fact that Beyoncé owns it is a perfectly good reason to drop some cash, it's also crucial to understand why Beyoncé chose this specific car seat for her kids. The good news is, Beyoncé is a Virgo, so that means she probably had an extensive pros and cons list before she decided on the Nuna PIPA.
According to The Spruce, "the Nuna PIPA is a trusted and highly-rated car seat because it "is one of few infant car seats available in the US with a foot prop," a feature that "reduces the amount of movement of the car seat during a crash." Furthermore, BabyList claims that parents will experience an "easy, breezy installation" if they choose the Nuna PIPA.
So, now that you're officially sold, here's where you can buy the Nuna PIPA. For starters, you can buy the car seat directly from Nuna PIPA's website. If you prefer to go with another retailer, Nordstrom, Neiman Marcus, Birch Baby, Albee Baby, Saks Fifth Avenue, Little Sprout, Dillard's, Stroller Depot, Strolleria, and The Baby's Den all offer the car seat on their websites. If you're not an online shopper, Nuna PIPA's website has a handy-dandy directory that advises parents how to shop locally. Just type your postal code or location into the search bar underneath the "Shop Local" section, and voilà, you'll be directed to Nuna PIPA stocked stores near you.
Of course, it's best to see if there are any money-saving deals before you type in your credit card information. At the moment, Albee Baby is offering the Nuna PIPA for $229.95, a $70 discount off of the original price. The only downside here is that the discounted car seat is only available in the "Blackberry" color, so if you're set on another shade, you're unfortunately out of luck. On another note, you should keep a close eye on the price of the Blackberry Nuna Pipa — in April 2017, the blog Thrifty Littles reported that the Blackberry shade went all the way down to $199.95. I guess people really aren't psyched about the Blackberry color? If you ask me, Blackberry is a fine color to go with.
All in all, it's super easy to buy the Nuna PIPA if you have the cash. Although it's a bit surprising that the car seat hasn't sold out yet (Beyoncé's influence is strong, people), it's a good thing the Nuna PIPA is widely available. This car seat is as fancy as it is safe.
Watch Romper's new video series, Romper's Doula Diaries:
Check out the entire Romper's Doula Diaries series and other videos on Facebook and the Bustle app across Apple TV, Roku, and Amazon Fire TV.