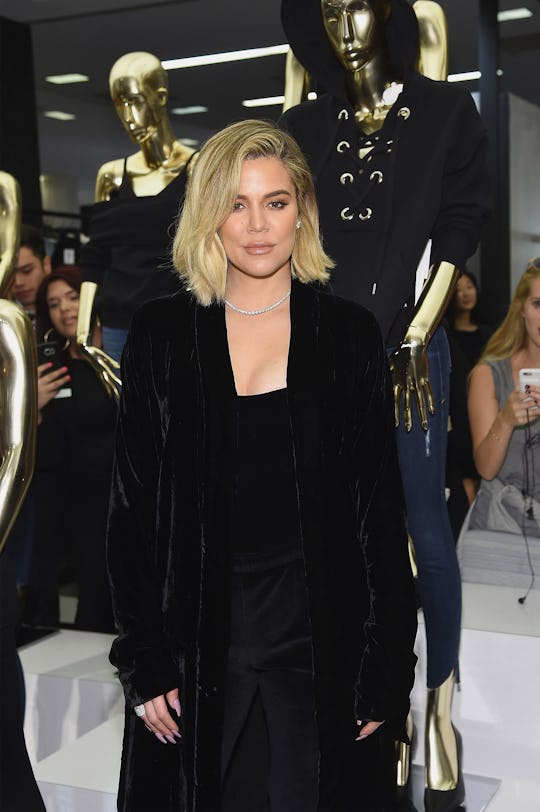 Jamie McCarthy/Getty Images Entertainment/Getty Images
The Fancy Crib Khloé Kardashian Uses For True Will Make Your Wallet Hurt
It's no surprise that Khloé Kardashian has taken many pages out of big sister Kim Kardashian's book when it comes to motherhood. And now, the mom-of-one is letting fans take a page out of her book. In a recent post on her website, Khloé opened up about her daughter True's crib, explaining that it's the same one Kim uses. Here's how to buy the crib Khloe Kardashian uses for True — but, fair warning, you may fall out of your seat when you find out how much it costs.
True sleeps in the Nursery Works lucite Vetro crib, which currently retails for $4,500, plus $399 for a white glove delivery, according to Nursery Works' website. While many parents opt for wooden cribs with space-saving built-in drawers, Khloé's sleek crib is made of lucite, which is that thick, clear plastic that looks like glass.
"I'm obsessed with True's Nursery Works lucite Vetro crib! It's feminine but still cool, which is the vibe of the nursery," Khloé wrote in her blog post. "Kim uses the same one, and I trust the products she loves. She was my angel during pregnancy and has been so helpful and encouraging. We're similar moms and have been two peas in a pod lately!"
If Khloé has convinced you to shell out nearly $5,000 on the trendy crib, there's good news and there's bad news. The crib is currently unavailable on Nursery Works' website, meaning the company's $399 white glove service is currently not an option for this crib. However, it's available for about the same price on Amazon, with expert assembly available for about $100.
The photo also reveals a few other elements of the nursery, including pink carpeting, pink walls, a white dresser, a pink butterfly mobile (how very Stormi Webster of her), and an "H" blanket in natural tones. (Any ideas on what the two Hs stand for?) Additionally, there is a pink-haired rocking horse, a non-rocking sheep, pink curtains, and what looks like a white bed or couch with a pink blanket, based on a photo shared by People.
Khloe shared another photo of True's nursery on her Instagram story on Monday, adding that she is "so obsessed with the vibe." The photo features a close-up shot of a pink stuffed bunny rabbit on pink-and-white flamingo sheets.
Earlier this year, Khloé made her baby registry public, revealing many of the products she planned to use for baby True. While Khloé turned to Kim for advice on her crib, Khloé looked to Kourtney for help selecting items for her registry. At the time, she wrote on her Amazon registry:
I've been looking forward to becoming a mom for a long time and am so excited to be getting close to my daughter's birth. With help from Kourtney and Amazon's Baby Registry, I was able to pick baby products perfect for my lifestyle.
Interestingly, Khloé registered for a different crib at the time. She selected the Babyletto Harlow Acrylic 3-in-1 Convertible Crib with Toddler Bed Conversion Kit, which retails for $649 on Amazon. Considering her wealth, it kind of makes sense that she might want a different crib on each floor of the house. Or, perhaps one crib is for True's nursery in Los Angeles, and the other is for her nursery in Cleveland, where Khloé and True are currently living.
Additionally, it's no surprise that True's nursery is a pink explosion, considering her baby shower. The entire affair was drenched in pink, from the flowers to the balloons to the KarJenners' outfits.
Plus, a photo Khloé shared of what seemed to be her home after returning from the hospital with True featured even more pink balloons and flowers.
Here's hoping Khloé shares even more photos of True's nursery soon — as well as a major discount code for that crib.