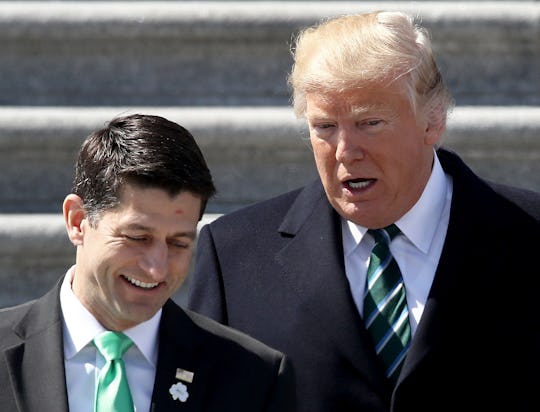 Win McNamee/Getty Images News/Getty Images
Call Your Reps About The GOP's Healthcare Plan ASAP
Those dedicated to keeping healthcare affordable for millions of Americans were momentarily relieved when a dearth of support for Republicans' proposed healthcare bill forced them to yank it from the House floor last month. And because it was the rejection of the bill by the most conservative members of Congress that caused it to flop, a new amendment to the plan — now approved wholeheartedly by those far-right conservatives who scrapped the first bill — would actually constrict healthcare accessibility for significant swaths of the population even more. So, it's time for Democrats and progressives to mobilize once again to fight to protect the 2010 Affordable Care Act. To get started, here's how to call your representative about the new health care plan, because your voice definitely matters.
Republican leadership opted to pull its controversial American Health Care Act from the House floor last month after members of the ultra-conservative House Freedom Caucus declared it too generous and refused to back it. In an attempt to recoup those votes, House Freedom Caucus chairman and North Carolina Rep. Mark Meadows teamed up with moderate Republican Rep. Tom MacArthur of New Jersey to devise an amendment. But in working to make the health care plan — which is the GOP's answer to the 2010 Affordable Care Act (Obamacare) — more palatable to those to want to cut health care costs at all costs, the amendment alienates some more moderate Republican legislators.
That's because it would allow states to opt out of two popular Obamacare provisions: the one that mandates that insurance provides include 10 "essential health benefits" like maternity and preventive care, in their plans, and the one that makes it illegal for them to charge those with preexisting conditions more for coverage.
According to The Washington Post, all the Democrats in the 435-member House oppose the current legislation, meaning that only 22 Republicans can cast "no" votes for it to still pass. But that's going to be a challenge, as major entities such as AARP, the American Hospital Association, and the American Medical Association have come out against it — a surefire sign that it's hypothetical implementation could spell disaster for Americans who currently rely on the Obamacare marketplace to purchase their health insurance. According to The New York Times, at least 18 Republicans oppose it as of Thursday night.
Republican Pennsylvania Rep. Patrick Meehan, for example, recognizes what such a law could mean and announced his opposition. "It threatens to send premiums skyrocketing for people with preexisting conditions," he said in a statement Thursday.
House Speaker Paul Ryan, a prominent anti-Obamacare crusader, said Thursday that the party will call a vote on the plan "when we have the votes," according to Reuter. He also assured that outlet that "we're making very good progress." It makes sense that Republicans would want to be cautious to avoid a messy, embarrassing failure like the one they experienced at the end of March. And the period in which they court votes among reluctant moderates within their own party is exactly when theses representatives' constituents have to fight like crazy.
Calling your member of Congress is arguably one of the most effective ways to get his or her attention. And finding their phone numbers using this handy link (which lists representatives by state and can be narrowed using a variety of filters) and giving them a buzz truly is a snap — especially considering what it could accomplish. In fact, calling your representative to let him or her know what you think about the revised bill — which could come to a vote in the very near future — has the power to force them to respond.
Emily Ellsworth has had jobs answering the phones for Utah Reps. Jason Chaffetz and Chris Stewart. And her experience showed her that a large volume of calls about an issue can literally take over the office. "It brings a legislative issue right to the top of the mind of a member," she told The New York Times. "It makes it impossible to ignore for the whole staff. You don't get a whole lot else done."
Ellsworth added that telling personal stories and anecdotes is much more likely to get the attention of the lawmaker than following a script. Either way, though, there's no doubt that standing up and speaking out can sway their hearts, minds, and, most importantly, their votes. In short? Picking up the phone and calling in can save health care.