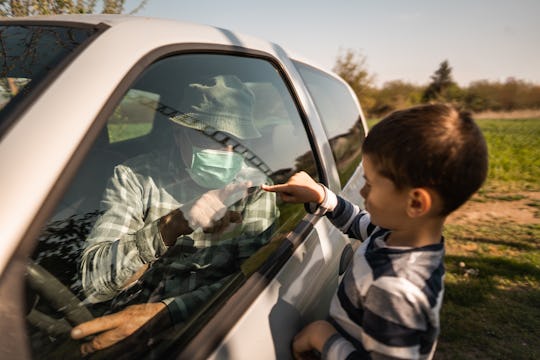 freemixer/E+/Getty Images
How To Celebrate Grandpa From A Distance This Father's Day
Father's Day isn't just an opportunity to celebrate dad; it's a reason to honor the patriarch of the pack, too: Grandpa. That's going to be a little bit trickier than usual this year for most families — but you can still celebrate Grandpa this Father's Day from a distance. With a little creativity and a lot of heart, you'll make his holiday just as special as ever.
"Grandparents are struggling with loneliness and disconnection from their grandkids in the absence of physical contact," licensed psychotherapist Babita Spinelli, LP, tells Romper. "They are isolated and missing special times with family which makes staying connected with their grandkids extremely important for their mental and emotional well-being." That's why, as licensed clinical social worker Beth Sonnenberg, LCSW, tells Romper: "It is really important, now more than ever, to celebrate grandpas for Father's Day."
Of course, keeping grandpa safe is important, too. "Senior citizens are most at risk for contracting COVID-19," Sonnenberg says, "and may have underlying health issues that complicate their care." In years past, a visit to grandpa's nursing home was no big deal. You didn't have to worry about the potential consequences of a big hug and kiss from your toddler to his Pop Pop. But that doesn't mean this Father's Day can't be a happy one for grandpa (and everybody who loves him).
No matter how much distance is between you, these ideas will show him that you appreciate what a wonderful grandfather your kids are so lucky to have.