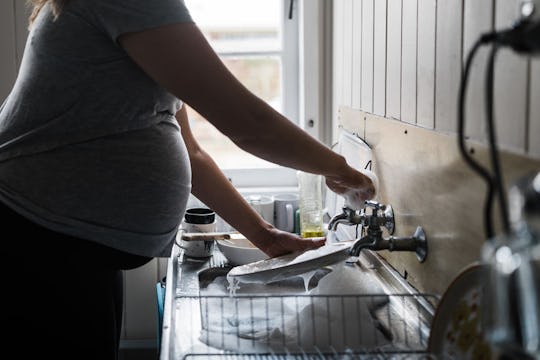 Samantha Gehrmann/Stocksy
Here's How To (Safely) Clean Every Corner Of Your House During Pregnancy
Many people become more conscious about the ingredients in everything they use during pregnancy, from skincare to makeup to laundry detergent. But when it comes to cleaning the house, transitioning to products that are safe for the baby can be tricky. You don't want the cleansers and disinfectants you use to be dangerous, but you do want them to be effective (and zap those germs right off the bathroom sink). Thankfully, there are plenty of non-toxic but potent products so you can safely clean the house during pregnancy.
Although it may feel like an overabundance of caution, there are definitely some common household items that are safest to avoid during pregnancy.
"One product you do need to avoid is oven cleaner. It can be dangerous to breathe, especially in the close quarters of your oven," Tracey Woodruff, PhD, MPH, explained on WebMD.
That's because oven cleaners may contain ingredients such as butoxydiglycol, which may be unsafe in terms of developmental and reproductive effects, according to the Environmental Working Group.
As for other ingredients, because research into the exact ways they can affect a fetus is still ongoing, it's difficult to say with certainty exactly which substances are potentially problematic. Definitely discuss any specific concerns with your doctor, and consider switching up your cleaning routine in the meantime.
To learn more about cleaning products that are generally considered pregnancy safe, Romper spoke with Tamara Iglesias, founder of Wellynest, a conscious parenting company. As a certified holistic health coach and yoga instructor with an RIE (Resources for Infant Educators) certification in childhood development, Iglesias works with families to create healthier relationships and environments, and shares her expertise in nontoxic products with parents everywhere. Here's what Iglesias deems safe for cleaning during a pregnancy and beyond.