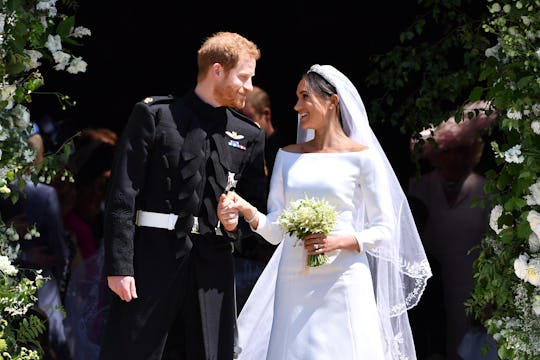 WPA Pool/Getty Images Entertainment/Getty Images
How To Donate To Prince Harry & Meghan Markle's Charities
When you celebrate a wedding, that means picking out a gift for the happy couple. But what do you get a royal couple like Prince Harry and Meghan Markle? I feel like they have enough crystal and honestly, a deviled egg platter seems a little meh. Luckily, the couple has asked that anyone wanting to share a gift with them can donate to a list of charities instead. So if you want to share good wishes with the lovebirds, here's how to donate to Prince Harry and Meghan Markle's charities.
Because they are already total philanthropists who love to help others, the Duke and Duchess of Sussex picked a variety of charities you can feel good about donating to. According to the official website for the royal family, Harry and Meghan chose seven different organizations. While they have no "formal relationship" with the chosen charities, they both felt strongly about each of them for different reasons, and they even chose smaller charities in an effort to shine a bigger spotlight on the work they're doing. Basically, instead of choosing a set of wine glasses or plates to fill their literal home in a palace, they decided to be intentional about their wedding gifts and give back to others.
If you'd like to donate to CHIVA, Children's HIV Association, you can go to their website and fill out just a bit of information. This charity chosen by the couple supports children growing up with HIV, and their families, around the U.K. and Ireland. It's a smaller charity, but one that's important to both Harry and Meghan. Back in 2016, The Telegraph reported that Prince Harry had an HIV test done live so that he could fight back on the stigma against the disease.
Crisis is another chosen charity and its purpose is to help fight against homelessness. The charity works directly with homeless people to help them rebuild their lives. For donations, you can head to their website and make a one-time contribution or set up a regular donation.
If you'd prefer to go international with your donation, you can also donate to Myna Mahila Foundation, which is an organization that "empowers women in Mumbai urban slums," giving women a trusted network and resources to help them grow. The website for the foundation gives you easy options for donating and even shares how the money is used. Meghan was actually able to visit the foundation in action and felt moved to include it in the list of charities for their wedding.
For Scotty's Little Soldiers, a charity for bereaved Armed Forces children, you can head to their website as well for an easy donation process. The donations are meant to offer support to children who have lost their parents, and anybody that knows the royal family knows how dear the Armed Forces and children are to them and their mission.
It's no secret that Prince Harry is a fan of sports with the Invictus Games, so he and Meghan included a charity called StreetGames, which uses sport to encourage children and their communities. For a donation to StreetGames, you can go to their website and follow the easy process.
If ecology and planet awareness is more your thing, you can happily donate to Surfers Against Sewage. The charity is "a national marine conservation and campaigning charity" that's eager to protect oceans, beaches, waves, and wildlife. Like the other charities, a simple click to their website will help you donate.
And finally, the seventh charity Meghan and Harry chose is The Wilderness Foundation UK. This organization "promotes the benefit and enjoyment of wild nature," which is pretty important. Again, a simple visit to their website will lead you to an easy-to-use donation page.
It's obvious Meghan and Harry love each other, but what's even more wonderful is how much they want to share that love with the world. If you're moved by their passion and their desire to make the world a better place, picking a charity should be super easy.