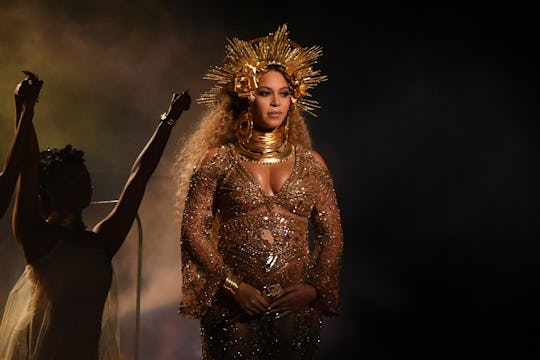 VALERIE MACON/AFP/Getty Images
How to Dress Like Beyonce's Pregnancy Announcement for Halloween 'Cause She's a Boss (And So Are You)
All hail Queen B. Beyonce is the perfect inspiration for a Halloween costume — or pregnancy announcement photo — that highlights your bump. Why? Because Beyonce is a boss b*tch. Remember when she revealed she was having twins? The over-the-top elegance of it all immediately made us all (expecting, or not) want to figure out how to dress like Beyonce in her pregnancy announcement, and the best part is that we realized that you don't have to break the bank to do it.
Copy the mauve femme fatal bra and silky briefs she wore when she broke the Internet to reveal she was having twins, and you'll exude diva sexiness and sass with whatever interpretation you have with it. If the stars are aligning for you and you're also looking to drop your pregnancy announcement at the same time as Halloween, we say go for it. You can even do a subtle gender reveal with the color choices if you decide to find out and announce what your baby will be.
Let's start with the Instagram that broke the Internet.
You might be wondering where you've seen this getup before. According to Vanity Fair, Beyonce's pregnancy announcement is similar to the classic Renaissance painting The Birth of Venus and a 15th-century painting of the Virgin Mary and her child. Why is this important? Because beyond the three pieces of clothing she's wearing, the subtle makeup, and her cascading hair, you can draw inspiration from these paintings too. In the classic painting, Venus is in the buff, and two figures are bringing flowy cloth toward her. Maybe you can use said cloth as a veil or creatively drape it like a dress as a nod to both Queen Bee and classic art.
Bottom line is that you're going to need a veil, a bra, and silk briefs.