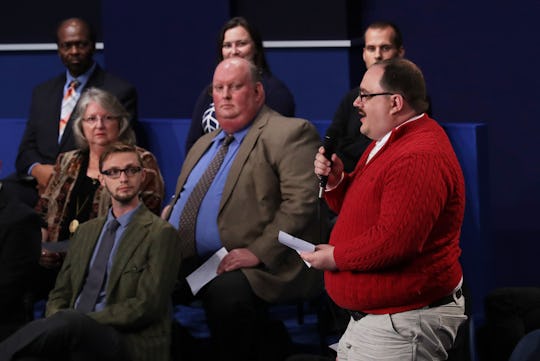 Chip Somodevilla/Getty Images News/Getty Images
How To Dress Like Ken Bone For Halloween, Because He's America's Newest Hero
There was a very clear winner during Sunday night's debate, but it wasn't either of the presidential nominees. No, the real victor of the second presidential debate was audience member Ken Bone. During the debate, Bone asked the candidates a very in-depth question about energy policies and, in doing so, immediately won over the hearts of every one watching. So, naturally, it makes sense for people to wonder how to dress like Ken Bone for Halloween this year. Because, let's be honest, there are going to be more than enough Hillary Clintons and Donald Trumps running around.
Overnight, Bone has become a household name and for good reason. His poignant question, combined with his sunny disposition during a pretty dark and ugly debate instantly earned him internet fame. (I mean, have you seen all the Kenneth Bone memes out there? People love the guy.)
And then there is his adorable and unassuming outfit choice. Bone opted for an all-American outfit of khakis and a cable-knit sweater, which just screams "Hi, I'm a nice guy who just wants America to be great." Though, to be honest, that wasn't Bone's first outfit choice for the event. During an interview with CNN, Bone said that he originally chose an olive green suit to wear, but when he got in his car the morning of the debate he, "split the seat of his pants open." You have to love a guy who is so refreshingly honest about his wardrobe and comes with a Plan B.
Basically, Bone is the American hero we need at a time when one of the candidates is making crude comments about women and chalking it up to "locker room talk." So if you're in search of a politically savvy Halloween costume, but don't want to don a pant suit or orange face paint, here's how to dress like Ken Bone — the bright light America needs right now.