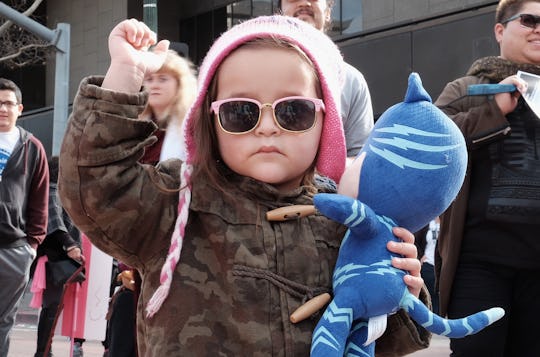 Sarah Morris/Getty Images News/Getty Images
How To Explain The Women's Strike To Your Kids
The "A Day Without A Women" general strike is set to take place on March 8 — aka, International Women's Day — and women and their allies are preparing to spend the day abstaining from all paid and unpaid work wherever possible to support the economic value of women's contributions. The strike has the potential to make a powerful statement, but as important a day as it will be for women, it's also a valuable learning opportunity for children. Wondering how to explain the Women's Strike to your kids? Strike organizers have some great ideas to get you started.
In the "A Day Without A Woman" FAQ page on the Women's March on Washington website, strike organizers posted a link to a lesson plan created by a group of teachers in the Stanford Education Program for educators looking for ways to incorporate the strike into their classrooms. The "March 8 Teach-In" lesson plan is meant to be suitable for all ages and genders, and used slides, videos, and a variety of activities to help make the "A Day Without A Woman" strike relatable to children. In addition to the lesson plan (which can also be a super helpful starting point for parents), there are a variety of other options that could be worth a try.
Talk About Gender Stereotypes
One great way to help your kids understand why something like the Women's Strike is important is to spend some time identifying gender stereotypes they likely encounter in their own lives. This is something that even young children can understand — my 4-year-old preschoolers have already picked up on the totally unfortunate idea that certain clothes, colors or toys are "for girls," and some are "for boys" — and it can be a pretty eye-opening exercise.
For young children specifically, the Stanford teachers' lesson plan recommends doing a "gendered toy sort," where teachers or parents can print out pictures of gendered toys and discuss how to best divide them into categories. Parents can also just use their kids actual toys in the sorting exercise, using their kids responses as a jumping off point for a discussion about gender stereotypes — and how, actually, all toys and colors are for both girls and boys.
Let Them Know That Gender Inequality Exists
The foundation of the Women's Strike is the reality that, despite all the progress that has been made, women still face discrimination and inequality based on gender. As much as we often want to tell our kids that boys and girls are equal, and that girls can do anything boys can do, the truth is that they are still growing up in a world where women are paid less than men (and where women of color are paid less than white women). Women are underrepresented in government and in STEM fields (like engineering and physics). And while having children has a significant negative impact on women's careers, research has shown that having children can actually increase a man's earning potential.
That's pretty disappointing, but the value in being open about it with our kids (both our sons and our daughters) is that they will then have a chance to grow up realizing that gender inequality is unfair and wrong and not something to be expected.
Read Them A Book About Equality
Reading to your children is a big deal for many reasons, but one of them is that it offers a great way to communicate different messages, and to spark further conversation (especially with little ones). There are lots of wonderful picture books that discuss feminism and gender roles, and they can be really effective options for explaining why things like the "A Day Without A Woman" strike is necessary.
Looking for some recommendations? Marsha Rakestraw at the Institute for Humane Education offers a list of suggestions, including Violet the Pilot by Steve Breen, Drum Dream Girl by Margarita Engle, and Amazing Grace by Mary Hoffman.
Tell Them About The Women's March
Lots of parents who participated in the Women's March on Washington (or the numerous sister marches throughout the country and the world) brought their kids along, giving them an amazing opportunity to learn about the movement up close and personal. But for those of us who didn't, the Women's March can still be a great resource to explain the "A Day Without A Woman" strike — both since the strike is the follow-up to the march, and because the march itself was such a success.
In addition to explaining what happened and why (that is, that an estimated 4.5 million people from all over the world came together to march for women's rights, according to The Guardian), you can show your children photos from the march, and YouTube has some great videos, too. From there, they can then begin to understand that, even though the march was a success, it was only the beginning, which is why the "A Day Without A Woman" strike was created.
Gender inequality — like racism, or homophobia — may not exactly be the kind of thing you want to have to discuss with your children. After all, it's sad to have to let them know that these things exist. But since they do exist, it's valuable for children to hear their parents say that it's wrong, and that those inequities should be challenged and fought. On March 8, the Women's Strike will attempt to make an important point about the contribution of women throughout the world, and including your children in the significance of that day can help push back against some of the countless harmful messages they inevitably encounter in the world on a regular basis.